The World's Rabbis Have an Important Message for Netanyahu's Plan to Demolish Palestine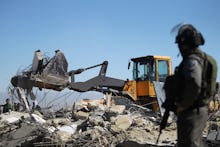 Palestinians have long lived under the shadow of Israeli government bulldozers. Now, they're joined in protest against the destruction of their homes by hundreds of Jewish religious leaders.
The Independent reports that more than 400 rabbis from around the globe, including from Israel and Britain, have denounced a plan by Israeli Prime Minister Benjamin Netanyahu's government to demolish more than 400 Palestinian homes in an area of the West Bank known as Area C. The Israeli government insists the homes lack proper permits and considers them illegal structures.
Rabbis for Human Rights, which calls itself the "only rabbinic organization in Israel explicitly dedicated to human rights in Israel and the Occupied Territories," released a statement calling on Netanyahu to stop fighting an High Court petition the group filed a decade ago to stop the demolitions.
"Thousands have been forced to build without permits, and great human suffering is caused when hundreds of homes are demolished each year," the rabbis wrote in an official press release. "The State of Israel has an obligation to ensure that every human being under her control, each created in God's Image, has a fair chance to build a home for him/herself and his/her family, irrespective of the current state of the peace process or differing opinions about what areas will be under Israel's control in a future final status agreement."
The background: The Israeli Committee Against House Demolitions reports that since 1967, "about 27,000 Palestinian homes and other structures (livestock pens and fencing for example) crucial for a family's livelihood, have been demolished in the Occupied Palestinian Territories (OPT), including East Jerusalem." Since the Israeli government only lists numbers of structures demolished, not their living capacity, the true number of Palestinian homes demolished is unknown.
According to the Independent, the U.N. Office for the Coordination of Humanitarian Affairs documented 590 demolitions of Palestinian structures in Area C and East Jerusalem, removing 1,177 people, which is the highest number since the agency began tracking displacements in 2008.
"Demolitions that result in forced evictions and displacement run counter to Israel's obligations under international law and create unnecessary suffering and tension. They must stop immediately," OCHA said in a statement. OCHA also argued that thanks to discriminatory policies in effect designed to prevent Palestinian settlement, many civilians are unable to obtain proper permits.
Human Rights Watch documented 815 displacements in Area C in 2012 alone under the justification that their homes were illegally constructed. It claims that under the Fourth Geneva Convention's prohibition on "individual or mass forcible transfers" on civilians in occupied territory, such evictions may constitute a war crime.
Meanwhile, Al-Jazeera reports that 515,000 Israelis live in hundreds of both government-sanctioned and illegal settlements in the West Bank. Netanyahu has aggressively backed Israeli settlement projects in East Jerusalem, the West Bank and elsewhere despite widespread opposition from Israel's own allies. In some cases, Israel destroys the homes of Palestinian terrorism suspects.
Why you should care: Netanyahu has repeatedly appealed to the Jewish character of the settlements, saying in an interview with Die Welt, "We're building in the areas that will remain in a final peace settlement of Israel. This is not some foreign land. This is the land in which the Jewish people have been for close to 4000 years."
But the hundreds of rabbis protesting settlement expansion beg to differ, seeing the demolition of Palestinian homes and the expansion of Jewish settlements as an unhelpful barrier to peace.
"Today, the Israeli Army controls the planning of the Palestinians, who are not included in the decision making,"  the group said in another recent statement. "In addition to being morally unacceptable, an increase in home demolitions during sensitive times can lead to higher levels of anger and despair."
h/t RT