This 'SNL' Star Spoofed the 'Fifty Shades of Grey' Elevator Scene — and It Was Hilarious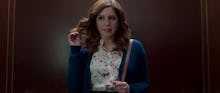 Sure, Fifty Shades of Grey might be one of the most anticipated movies so far of 2015, but where can we get tickets to this version? Featuring Saturday Night Live cast member Vanessa Bayer, this Audi car commercial spoof is so funny, it's almost hard to tell whether this is an actual sketch or a commercial.
Take a look:
As the ultimate Fifty Shades of Grey fan, Bayer's character is doing whatever she can to live out her own version of the infamous elevator scene from the book and soon to be featured on the big screen. In the book, and presumably movie, Christian Grey gives Anastasia an Audi, hence the commercial tie-in, but the spot's best jokes come before you even realize that's what's going on. 
The director "allowed me to improvise quite a bit. So it was really fun, to just, based on the different people coming in the elevator, to just kind of come up with new, funny bits to do with them," Bayer told Mashable.
As different people enter the elevator with Bayer, she tries out different "scenarios" to get things going, which leads to interactions like this:
And this:
Spot on.
h/t Cosmopolitan