Sam Smith's Grammys Performance with Mary J. Blige Just Proved He's an R&B Legend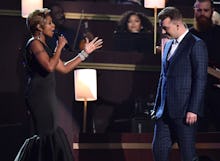 Nine-time Grammy winner Mary J. Blige joined Sam Smith onstage Sunday at the Grammys to duet Smith's "Stay With Me," and the performance was breathtaking.
Backed by an orchestra and a choir, Smith walked onstage with the swagger of a multiple Grammy award-winner. You'd never guess it was his first year on the stage, but it surely won't be his last.
"Stay With Me" was nominated for three Grammys: Best Pop Solo Performance, Record of the Year and Song of the Year. But the song may never have come to fruition without Blige and other R&B divas like her.
"I've always loved big female voices like Chaka Khan, Whitney Houston, Etta James and Beyoncé," Smith told the New York Times Magazine in March. "There's some amazing guy singers out there at the moment, but I want to have the presence vocally that some of the divas did. We need a male diva, and not in personality."
Smith is poised to become that diva, and this performance further cemented his status as an up-and-coming R&B legend. In fact, this isn't the first or even second time Blige and Smith have dueted on "Stay With Me." The two performed the song at New York's Apollo Theater and London's Somerset House, and released a studio version of the duet over the summer.
Beyond "Stay With Me," Blige and Smith worked closely together on Blige's album The London Sessions, a spare and beautiful recording that she released in November. Smith co-wrote four songs on that album, including "F for You," a Blige-Disclosure collaboration nominated for the best dance recording Grammy. And Blige has not been shy about her admiration for Smith. 
"Some people just have a beautiful spirit, and you can feel their spirit and see their heart," she told USA Today. "Sam is not afraid to be honest. I love that about him."