Sia Took the Stage at the Grammys With a Surprise Celebrity Guest — and Blew Us All Away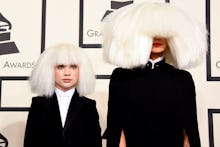 Famously shy musician Sia took the (back)stage at the Grammys and did what Sia does best: Floor the audience without showing her face.
Comedian Kristen Wiig joined Sia's "little dancer," Maddie Ziegler, for a touching, and at times goofy, performance:
Sia, who was nominated for four Grammys Sunday — Best Music Video, Record of the Year, Song of the Year and Best Pop Solo Performance, all for "Chandelier" — has severe stage fright. This has led to some unconventional performances: She wore a visor during her Saturday Night Live performance in January, sang facing a corner while appearing on Ellen and spent an appearance on Jimmy Kimmel's "Celebrities Read Mean Tweets About Themselves" segment facing away from the camera and eating from a jar of peanut butter with her hands.
But her Grammys performance showed that Sia is more than just a quirky, flighty blonde bob. She's been part of a historic year for women in pop music; she was one of eight who broke a historic glass ceiling by dominating the top 10 slots of Billboard's Top 100 ranking. And Sia was the creative mastermind behind several hit songs, including Beyonce's "Pretty Hurts," Rihanna's "Diamonds," Ne-Yo's "Let Me Love You" and many more.
With her four Grammy nominations, and this performance in particular, Sia is finally earning the recognition she deserves: as a star in her own right.