Lady Gaga Proved She's a Truly Great Singer With Her Grammys Duet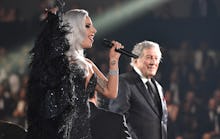 In a night packed with contemporary performances, Lady Gaga and Tony Bennett rocked it old-school with "Cheek to Cheek," a 1930s Irving Berlin original written for Fred Astaire, further proving that Gaga is more than just a meat-dress-wearing performance artist. The duet came on the heels of Gaga and Bennett's Cheek to Cheek winning the Grammy for best traditional pop vocal album.
Cheek to Cheek is full of throwback jazz standards, and an excellent showcase for Gaga's vocal skills. Gaga has now won six Grammys, and Bennett has won an amazing 18; the two crooners have been called an "odd couple," but based on Sunday night's performance, the pairing couldn't be better. 
Though critics have claimed that Gaga's last two solo albums were letdowns, her performance at the Grammys proved that she's potentially at the peak of her career. Some critics have even gone so far as to say that Gaga's career is over, but her collaboration with Bennett appears to have come at the perfect moment for a Gaga rebirth. 
Little monsters, rejoice. Gaga isn't going anywhere.