Miranda Lambert Took a Powerful Stand for Women with Her Grammys Performance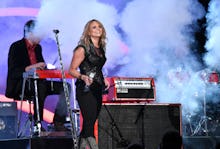 Country star Miranda Lambert took to the Grammys stage Sunday night to perform her new rock-tinged single, "Little Red Wagon." Lambert channeled Joan Jett on the all-red stage, flanked by red guitarists and a giant red fan. 
With her stellar performance, Lambert didn't just put on a great show: She fought the good fight for female country musicians in a largely male-dominated genre.
When Lambert's hit "Automatic" peaked at No. 6 on Billboard's Hot Country Songs chart in April 2014, it had been two months since another woman had cracked the top ten; that was Kacey Musgraves' "Follow Your Arrow." As of Sunday, there is only one woman in all of the top 20: Carrie Underwood, with "Something in the Water."
The Grammy nominations tell a different story than the charts, though, with the country categories more or less evenly split between men and women. Lambert is nominated in all four country categories: Best Country Solo Performance (Carrie Underwood took this prize for "Something In the Water"), Best Country Duo/Group Performance (the Band Perry won for "Gentle On My Mind"), Best Country Song for "Automatic" (Glen Campbell took the prize for "I'm Not Gonna Miss You") and Best Country Album for Platinum. In 2010, Lambert won the Grammy for Best Female Country Vocal Performance (back when the Grammys still divided the categories into gender) for her hit "The House That Built Me."
"It's a pretty big deal to be able to have this one time to show the rest of the music industry what I'm about," Lambert told the Tennessean after her Grammy rehearsal on Friday. 
With her performance, Lambert showed America exactly what she's all about: championing the fierce, under-represented women in her genre. The country music community should take note.