Hozier Just Took Everyone to Church With This Amazing Grammy Performance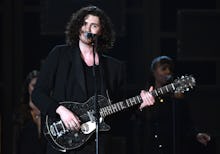 Hozier is going to be hard act to follow. 
The Irish songwriter performed a powerful rendition of his "Take Me to Church" with help from Annie Lennox, the former lead singer of the '80s rock act the Eurythmics. The two brought the audience to their feet. They make an absolute hell (or heaven) of a duo. 
Halfway through the performance, they broke into a version of "I Put A Spell On You," which appeared as the lead single off Lennox's solo album Nostalgia. It made for a powerful conclusion: Lennox's album was up for best traditional pop vocal album but lost to Lady Gaga and Tony Bennett's Cheek to Cheek. The Grammys might want to reconsider their decision, judging from this explosive applause.
Hoizer has been one of the most unlikely breakout pop stars of the past few years. "Take Me to Church" enjoyed no sweeping media campaign to push it to the world. It only had a powerful black and white video, depicting scenes reminiscent of the anti-LGBTQI violence taking place in Russia surrounding the country's anti-gay legislation passed in 2013. The video helped draw out the song's powerful social consciousness, and revealed Hozier as one of our culture's most promising and potentially game-changing songwriters we've seen in years.
"Sexuality, and sexual orientation — regardless of orientation — is just natural," he told New York magazine about the song.  But an organization like the church, say, through its doctrine, would undermine humanity by successfully teaching shame about sexual orientation — that it is sinful, or that it offends God. The song is about asserting yourself and reclaiming your humanity through an act of love."
That love showed in his performance at the Grammys. "Take Me to Church" is up for song of the year, and it has a good shot of winning, despite facing some of pop's elite: Taylor Swift, Meghan Trainor and Sia. Even if he misses the gramophone trophy, Hozier's performance proved that he's bound to be a vital contributor to pop music for years to come.