See the Final Performance of the Original Artist of Tim McGraw's Oscars Tribute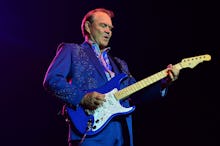 Country music icon Glen Campbell won the sixth and final Grammy of his legendary career for "I'm Not Gonna Miss You," a moving ballad chronicling his battle with Alzheimer's. At the 87th Academy Awards on Sunday, superstar Tim McGraw paid tribute to his amazing life with a heartbreaking rendition of the Campbell's final song.
The heartbreaking song was co-written with Julian Raymond for the 2014 documentary, Glen Campbell: I'll Be Me. 
And here's Tim McGraw performing the song at the Oscars:
Campbell, 78, was diagnosed with Alzheimer's in 2011 and since April 2014, he has been living in an Alzheimer's facility to go through the last stages of the disease.
"I'm so proud of him tonight," his wife, Kim Campbell, said while accepting the award at the Grammys. "It's been an amazing journey; he's been so courageous in bringing awareness to Alzheimer's and caregiving. Sadly, he can't be with us tonight because he is in the late stages of Alzheimer's, but he is healthy and cheerful. I know first and foremost he'd want to thank God for a great career and especially for the gift of music. 
"Music, I really believe, kept him healthy for a longer period of time and enabled him to enjoy life while living with a debilitating brain disease. In honoring him, you are shining the light on his quest to make a difference."
The Band Perry also won the Grammy for best country duo/group performance for "Gentle On My Mind," a track from the Campbell documentary. With his win, Campbell not only helped shine a light on a disease that's expected to affect about 1 in 85 people by 2050 but also cemented his status as a country legend.