President Obama Made a Surprise Appearance at the Grammys With a Video You Need to See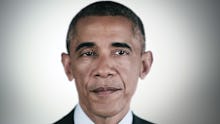 Last year, 28.5 million people watched the Grammys. What if that massive audience could be leveraged to spread an important message? With an unexpected virtual visit from President Barack Obama during this year's award show, that's exactly what happened.
During the 57th Grammy Awards on Sunday, Obama used the annual celebration of the music industry as an opportunity to deliver a critical message about violence against women. As part of "It's on Us," an anti-domestic violence campaign the Obama administration launched last year, the president shared a powerful video showing who's really responsible for preventing sexual assault: all of us.
That message is more important than ever. Approximately 1 in 5 women will be a victim of sexual assault over the course of her life. Although we've spent more time debating the issue this year, we're still far from having a solution to the problem. We still live in a world where politicians refer to pregnancy from rape as "beautiful" or a "gift from God," and where women are held responsible for preventing sexual assault by altering their drinking habits.
The choice of venue for delivering this message isn't a coincidence. Rape culture is deeply ingrained at every level of our society, and the music industry isn't immune to it. Even the Grammy Awards have a history of tolerance when it comes to abusers: Grammy producers called themselves "the victim" after Chris Brown violently assaulted Rihanna, and framed his return to the awards show as some sort of celebratory comeback. The recording academy also chose to honor Eminem in the best rap album category this year, despite his public threats against female artists like Lana Del Rey and his well-known history of abuse. 
Given the conflicting messages young people are receiving about who's to blame for rape, it's encouraging to see the president use a mass-appeal event like the Grammys to spread the word about preventing sexual assault.