One Quote From Sam Smith Shows What It Really Means to Be a Musician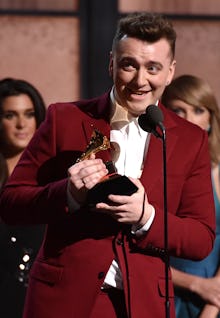 When Sam Smith stood on the stage at the Staples Center in downtown Los Angeles Sunday to accept his first-ever Grammy, for best new artist, the British crooner appeared speechless.
"Before I made this record, I was doing everything to try to get my music heard. I tried to lose weight, I was making awful music," he said. "It was only until I started being myself did the music start to flow and people start to listen."
Smith is absolutely right. In an industry that too often prioritizes a sanitized, mainstream image of beauty over actual artistry, Smith's win is a triumph for many other up-and-coming singer-songwriters who pour their heart and soul into the music they make.
In the Lonely Hour, as Smith has often noted, was an album largely documenting the pain of coping with loving someone who didn't love him back. 
"I've never been in a relationship before. I've only been in unrequited relationships ... I guess I'm a little bit attracted to that in a bad way," he told the Fader in an interview. "I think I'm over it now, but I was in a very dark place. I kept feeling lonely in the fact that I hadn't felt love before. I've felt the bad things. And what's a more powerful emotion: pain or happiness?"
But Smith's speech is more than about offering words of inspiration: It's also the ultimate kiss-off to the people who said someone who looks like him can't possibly be a pop star. Just weeks ago, the ever-cantankerous shock jock Howard Stern called Smith a "fat ugly motherfucker" who "looks gay" and "effeminate," all but dismissing Smith as a one-hit wonder whose beautiful voice would overcome his supposed lackluster sex appeal. 
Smith took it in stride:
But despite all the negativity about Smith's body image and the cruel, homophobic jabs taken at his identity as a gay man, his Grammy wins prove that authenticity, vulnerability and remaining focused on one's craft ultimately win out. 
Well done, Sam. You've done us all proud.