Kanye West Just Blew Grammy Audiences Away with a Haunting Performance of "Only One"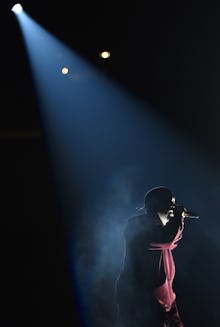 Kanye West just sent a shiver through the collective spines of Grammy audiences.
Lit from below by a single light, he performed the Paul McCartney-assisted single "Only One." It was a haunting and powerful affair, and it blew the crowd away.
The song, with its beautiful, hollow sound, is a striking departure from West's recent work. It's the first thing he's released since the venomous Yeezus tore huge chunks out of polite pop radio with singles like "Black Skinhead" and "New Slaves." 
"Only One" is a different West. When he premiered the video for the song on the Ellen DeGeneres Show, he said his previous album had come from a dark place of deep frustration. But his marriage to Kim Kardashian and the birth of his daughter changed him. Subsequently, it changed his music. 
"I think I'm a better human being because of [Kim] and because of my daughter," West said in the interview. West is calmer and more tranquil, channeling far more beautiful messages and melodies.
This is not the last of West we'll see. He'll be taking the stage again to perform alongside McCartney and Rihanna. That performance too is bound to be a largely acoustic and personal affair.