Madonna Surprised the Hell Out of Everyone With Her Amazing Grammy Performance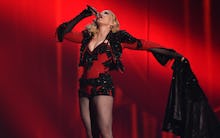 Shortly after Madonna mooned the paparazzi on the red carpet, the pop legend took to the Grammy stage to perform "Living for Love" dressed as a sexy matador and flanked by half-naked, bejeweled bulls. 
After her recent history of strange antics and hit-or-miss performances, we weren't quite sure what to expect from Madonna this time around. But it looks like Madge is back.
Madonna had everyone in the crowd standing and dancing along — Taylor Swift included — before she was lifted off the stage by a wire. 
The 56-year-old pop star has won seven Grammys in her long, illustrious career, and her new album, Rebel Heart is set to be released March 6. That means the album wasn't eligible for this year's Grammys, but it could be in the running next year, especially given that awesome performance. 
Luckily, no one was impaled.