The Most Powerful Moment of the Grammys Had Nothing to Do With Music or Dresses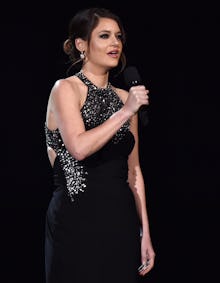 There was a lot of talent at the Grammy Awards this year, but one performer stole the entire show. She's not a celebrity, nor is she famous. She's a survivor of rape and she just left us all speechless.
Although she was largely unknown to millions of viewers, the writer, activist and performance artist Brooke Axtell is a face no one will ever forget after her Grammys performance Sunday night.
After a surprise televised address by President Barack Obama, where he discussed his anti-violence campaign "It's on Us," Axtell took the stage to deliver a poem about her own experience with abuse. She addressed victims directly, saying that "authentic love does not devalue another human being," adding, "You are worthy of love." Her poem led into a performance by Katy Perry of Perry's "By the Grace of God."
In an interview with People, Axtell, who has been a victim of both sexual assault and sex trafficking, described the joy in the opportunity to write and perform her own art form in front of millions of people. "I don't see myself as a victim. I see myself as a warrior for peace and healing," she said. "I've taken back my power and now I want to honor and elevate the voices of those who have been silenced by abuse."
Reactions to her performance were overwhelmingly positive in the audience and online. It's not every day that violence against women becomes a trending topic of conversation during an awards show, but that's exactly what happened this year.
One of the most powerful aspects of her performance is that well-known abusers like Chris Brown, R. Kelly and Eminem had to sit through it in the audience. Although the performance was moving, many believed the Grammys haven't gone far enough. Eminem won two Grammys Sunday night, despite his history of abuse and misogynistic behavior against women. The Recording Academy also came under fire after painting itself as "the victim" in 2012 after Chris Brown assaulted Rihanna. Can Grammy voters truly pat themselves on the back after repeatedly enabling and rewarding abusers with awards?
Sure, one moving performance won't fix the music industry's tolerance for abusers, but it will reach a massive audience who may have never otherwise been exposed to Axtell's message. 
We rarely hear from survivors, or let alone let them speak in their own words, so the impact of Sunday night's performance cannot be overstated.