Sam Smith Made History at the Grammys, and He Absolutely Deserved It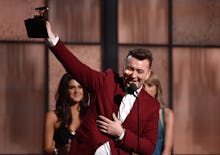 Sam Smith, one year ago an unknown Brit walking the Grammy red carpet to watch other musicians, is now officially the best new artist of the year. Not only that, but he made history Sunday as the first openly gay artist to win best new artist at the Grammys.
"This is the best night of my life," Smith told the crowd at the Staples Center in Los Angeles. "I want to thank the man this song is about, who I fell in love with last year. Thank you for breaking my heart, 'cause you got me four Grammys."
Smith also took home song of the year and record of the year for "Stay With Me," and best vocal album for In the Lonely Hour. This was Smith's first time at the Grammys, and in his first year as a mainstream artist; In the Lonely Hour spawned three singles that have breached the Billboard Top 100. The album also sold more than 1 million copies, making Smith the only artist to sell as many albums in both the U.S. and the U.K. in 2014.
In his candid acceptance speech, Smith proved once again that he is open about his sexuality, but he doesn't let it define who he is or what he does.
When Smith "officially" came out in an interview with the Fader in June, the magazine asked him whether he felt comfortable speaking openly about his sexuality. He replied, "I want to make it a normality because this is a non-issue. People wouldn't ask a straight person these questions. Why is [my sexuality] a talking point? I'm singing, I'm making music, I'm performing my music — that's what should be the talking point."
He's doing more than just making and performing music, though; he's winning the biggest music awards of the year, and doing it with the humility and poise of someone well beyond his 22 years.