Beyoncé's Unbelievable Snub for Best Album Proves the Grammys Isn't Really About the Music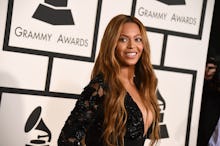 When Prince announced that Beck's Morning Phase had won album of the year at Sunday night's Grammy Awards, jaws dropped around America. 
Kanye West leaped on stage, nearly repeating his infamous "I'mma let you finish..." moment from the 2009 Video Music Awards. He turned around before he got to the mic, but he should have gone all the way and said what everyone was waiting for: Beyoncé had one of the best R&B pop albums the world has ever heard. She should have won album of the year, hands down.
No album was bigger last year than Beyoncé. Beck's Morning Phase is a solid folk album. It makes for some nice, easy listening – bordering on bland at times. It didn't push boundaries in its genre in any radical ways. Beyoncé's album, on the other hand, blew pop and R&B wide open. 
The album produced some of the most memorable singles of the year, including the Jay Z-assisted "Drunk in Love," the feminist empowerment anthem "Flawless" and the incredibly sensual "Partition." Every track off the album came with an accompanying music video, each one creating its own aesthetic universe. "Flawless" portrayed an evocative riot grrrl punk vibe, while "Haunted" evoked a deeply mysterious neo-aristocratic decadence.
The album also introduced some powerful new names into the pop stratosphere, such as producer Boots. Before Beyoncé gave him his shot, he had been homeless for a few years. He was responsible for co-producing 80% of the album — an enormous amount of influence for a no-name producer to have on a huge pop album. But Beyoncé saw his talent. His radical approach to songwriting helped give "Ghost" and "Blue" their vibrant sonic landscapes. The tracks he produced are some of the most personal Beyoncé has ever recorded. He helped bring out a vulnerability we had never seen in the Queen before.
The album's explosive surprise release also completely changed the game in terms of album rollouts. It sent music pundits scrambling to explain its effectiveness, and everyone from U2 to Thom Yorke to Run the Jewels copied elements of the release strategy for their own releases last year. Everyone in music wants what Bey has got, except for the Grammys.
This adds one more tragic snub to Beyoncé's growing list. Beyoncé is the most nominated woman in Grammy history; she has won a staggering 20 awards (including three Sunday, for best surround sound album, best R&B performance and best R&B song), but her crown is still short its biggest jewel. She has never won an Album of the Year award. She's been passed up for it three times now. None of her albums have deserved it more than her self-titled Beyoncé . But as we've seen throughout history, the Grammys rarely make the right choice  regarding Album of the Year.
Bey will just have to break the Internet again next year until she finally gets the trophy she deserves.