Beyoncé Just Proved Why She'll Go Down in History As One of the Greatest of All Time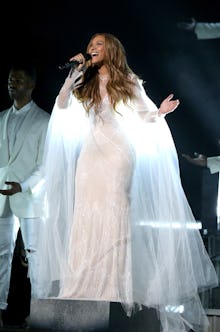 After a whirlwind night of epic performances, snubs and hilarious unscripted moments, the Grammys desperately needed a moment of peace. And for the last performance on Sunday, Beyoncé gave us what we needed: She took the Grammys to church with a soothing rendition of the gospel classic "Take My Hand, Precious Lord." Her song set the stage perfectly for Common and John Legend to close with their powerful Selma anthem "Glory."
We rarely see the Queen performing in such a organic, stripped-down settings these days, but she sounded heavenly. She proved why she'll go down in history as one of the greatest.
"Take My Hand, Precious Lord" appears in Selma, sung by Ledisi Young, portraying famed gospel singer Mahalia Jackson. She sings it to Martin Luther King Jr. over the phone late at night to inspire him to face the dangers awaiting him. Beyoncé absolutely did justice to the original, and to Young's rendition, which many critics have praised as being one of the most powerful moments in the film.
Beyoncé grew up singing gospel, and her expertise showed. Most of her Destiny's Child albums used to end with gospel numbers, such as the group's "Gospel Medley" off 2001's Survivor. Since going solo, she's moved away from the genre.
"It teaches you to blend ... the church is the best training," she once told VHI while discussing her gospel training. "Definitely it prepares you for the jitters. Even though I can perform at the Grammys, I can perform at the MTV awards and I'll be nervous, but not as nervous as I am when I get in front of my church and sing."
If she felt any nervousness, none of it showed. Her flawless performance set the stage perfectly for Common and John Legend to present their inspiring "Glory." Common's verses drew vivid connections between the civil rights struggles depicted in Selma and today's police brutality struggles taking place around the U.S.: "Resistance is us / That's why Rosa sat on the bus / That's why we walk through Ferguson with our hands up."
The Chicago rapper made the connection all the clearer while accepting the Golden Globe awarded to "Glory" for best original song. "Selma has awakened my humanity," he said. "We look to the future, and we want to create a better world. Now is our time to change the world. Selma is now."
Few of the songs performed and nominated Sunday night could boast the historical significance and social consciousness of "Take My Hand, Precious Lord" or "Glory." Those performances were a huge, visible reminder of the #BlackLivesMatter movement. They followed a string of powerful nods to the movement throughout the broadcast, including Prince's powerful quote "Like books and black lives, albums matter" and Pharrell's brilliant hands up protest moment during his disorienting bellhop dance performance of "Happy." 
With this conclusion to the 2015 Grammys, Beyoncé, Common and John Legend proved why they're three of our most valuable voices in hip-hop and R&B — and why, more importantly, #BlackLivesMatter.