In One Quote, Prince Just Won the Grammys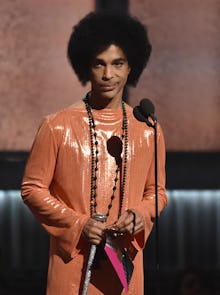 The Artist Formerly Known As, the High Priest of Pop, the one and only Prince, stole the show at the Grammys on Sunday with one simple, unscripted moment:
Prince was presenting the Grammy for album of the year, a prize that went to Beck for Morning Phase. But the Great Purple One steered the Grammys in the direction much of the rest of the show took: honoring black lives.
Pharrell, Beyonce, John Legend and Common all paid tribute to the #BlackLivesMatter movement when they and their fellow performers raised their hands in the air in separate performances, as if to say, "Don't shoot." 
The ad-libbed quote may prove to outshine many of the performances and statues awarded at Sunday night's Grammys. 
And who better to do it than Prince?