Kanye West Wasn't Joking Around When He Rushed the Stage at the Grammys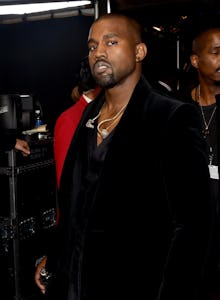 During Sunday night's Grammy Awards, Kanye West almost made bizarre history for the second time when he appeared to rush the stage after Beck won album of the year for Morning Phase instead of Beyoncé for Beyoncé. It looked like West was about to repeat his infamous 2009 Video Music Awards moment when Taylor Swift won best female video over Beyoncé.
It was actually pretty funny and would have gone down in Grammy history as a well-played deprecating joke. Even Jay Z and Beyoncé liked the gag:
But the thing is: Kanye was not kidding around. Even though West rethought his move and sat back down, this wasn't some elaborately planned joke. He really was upset, and he wants everyone to know it. 
At an E! after-party, West explained what was going through his mind as he walked onstage, and it definitely wasn't positive. 
"I just know that, the Grammys, if they want real artists to keep coming back, they need to stop playing with us. We aren't going to play with them no more. Flawless. Beyoncé's video. And Beck needs to respect artistry, he should have given his award to Beyoncé," West said, according to Vanity Fair.
He continued:
"At this point, we tired of it. What happens is, when you keep on diminishing art, and not respecting the craft, and smacking people in the face after they deliver monumental feats of music, you're disrespectful to inspiration. We, as musicians, have to inspire people who go to work every day, and they listen to that Beyoncé album, and they feel like it takes them to a different place. And then they do this promotional event, and they'll run the music over somebody's speech, the artist, because they want commercial advertising. We aren't playing with them anymore. And by the way, I got my wife, my daughter, and I got my clothing line, so I'm not going to do nothing that would put my daughter at risk, but I am here to fight for creativity. That's why I didn't say anything tonight, but you all knew what it meant when 'Ye stepped on that stage."
West performed twice on Sunday night, once solo and once with Rihanna and Paul McCartney. And based the rest of the evening, it appears that Beyoncé wasn't too shaken up about the whole thing. 
The unfortunate thing about the event is that West seems to think he knows more than everyone else about music. Granted, he is in many ways a genius. But for the sake of argument, it's worth noting that Beyoncé credits 16 different producers who had a hand in making her album. Beck's Morning Phase, on the other hand, only hand one: Beck. 
While what Beyoncé accomplished with her album shouldn't be diminished, it's also not fair for West to call out Beck for what he did with Morning Phase, an arguably excellent piece of art. West can claim that Beck isn't a "real artist" or that this win isn't "respecting the craft," but frankly a lot of people recognize that the Grammys don't exactly represent real music today anyway. West can do whatever he wants and say whatever he wants to support his friends, but he shouldn't pull real artists down with him.