The Campaign to Draft Elizabeth Warren for President Just Got Its Biggest Boost Yet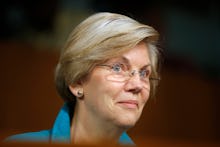 As Republican presidential hopefuls are scrambling to win the hotly contested favor and money of conservative movers and shakers, a number of progressive groups are doing anything they can to field a liberal challenger to Hillary Clinton in 2016.
On Sunday, New York's Working Families Party voted to enter a growing national effort to encourage progressive firebrand Sen. Elizabeth Warren from Massachusetts to run for the Democratic nomination for president.
The Working Families Party is a political group that bolsters left-leaning policies and candidates. Since their founding by community groups and trade unions in 1998, they've come to serve as a barometer of the left wing of the national Democratic Party.
"Sen. Warren is the nation's most powerful voice for working families fighting against a set of rules written by and for big banks," said Working Families Party director Bill Lipton, according to MSNBC. "That's the debate we want to see, and that's why we're urging Sen. Warren to run for president." 
The move to draft Warren: MSNBC reports that the Working Families Party joins progressive advocacy groups MoveOn and Democracy for America, who are leading a $1.25 million campaign to lure Warren into the race.
Ready for Warren, a super PAC that is convinced Warren is "the backbone that the Democratic Party too often forgets it needs," welcomed the news.
"This is a huge moment for the campaign to draft Elizabeth Warren. We're thrilled to have the Working Families Party join this fight," said Erica Sagrans, the group's campaign manager, according to the Huffington Post.
The party: The Working Families Party doesn't have the kind of clout or resources to be considered a game-changer for Warren's national prospects, but their endorsement carries symbolic significance. The group generally backs deeply progressive candidates, and it was considered an important factor in the election of Bill de Blasio, New York City's first Democratic mayor in two decades, who has shown great ambition as a left-leaning policy reformer.
The group came under fire among the progressive community when it supported the re-election of New York Gov. Andrew Cuomo in 2014. Cuomo is widely reviled by the left, and the party's endorsement was considered a serious strategic misstep.
While some members of the Working Families Party have declared that the act isn't meant to be a strike at Clinton, their nod is undoubtedly another sign of progressives' widespread disaffection with her corporate past and status quo propensities. There can only be one nominee for the Democrats; their vote for competition is inherently an act of skepticism of Clinton.
Will she or won't she? Warren has garnered enormous attention in recent years as a crusader against Wall Street, and she's perhaps the only national Democrat in America who progressives trust as a threat to the neoliberal consensus in Washington. Despite the fact that she has repeatedly indicated that she will not be running for president, large swathes of the progressive base are desperate for someone they feel will do more than pay lip service to the economic interests of non-elites and can rein in corporate power.
Hillary Clinton is fielding advice from 200 economic experts on what kind of economic platform to adopt for her widely anticipated presidential run. In the meantime, Warren is busy protecting leadership positions in the Treasury Department from Wall Street bankers who are being paid tens of millions as they parachute into the public sector. Clinton is still the hugely favored candidate, but there's a growing sense that progressive Americans are more interested in results than rhetoric on the economy.