This Muslim Man's Social Experiment Will Absolutely Make Your Day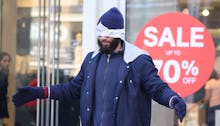 Acts of Islamic extremism have dominated news coverage in the past several weeks, giving way to a spike in anti-Muslim incidents and Islamophobic sentiments in communities around the world. The vicious attacks themselves don't reflect the perspectives of the millions who peacefully practice Islam. Unfortunately, that reality gets obscured by prejudice. But one group of video bloggers sought out to challenge it in a simple, yet impactful manner. 
In a social experiment dubbed the "Blind Trust Project," YouTube user AsoOmii Jay partnered with Time Vision Productions to see how people in public spaces would react to a Muslim person's plea for understanding. The result was quite inspiring.
In the video, one Muslim man in downtown Toronto stands blindfolded next to two signs with striking statements. "I am Muslim. I am labelled as a terrorist," one sign reads. The other acts as a call to action for passersby: "I trust you. Do you trust me? Give me a hug." 
Sure enough, one by one, people begin offering him an embrace as one simple but profound act of kindness.
With his eyes obscured, the Muslim man stands vulnerable in a public square, leaving him susceptible toward open hostility. But the video shows him taking a leap of faith, trusting that the people he'll unwittingly encounter will opt in to his humble invitation and greet him with open arms. And that's exactly what pedestrians end up doing. 
The intent of the video, the makers say, is to show their community how Muslims are made to feel in their own countries. 
"Our message to the world is that we wish to break down the barriers and eliminate the fear and ignorance that's projected toward Muslims and Islam," Jay says in the video, "and to make an effort to eliminate stereotypes and Islamophobia."
There's a reason why Islamophobia weighs heavily on the minds of many Muslims right now. 
In the days following the Charlie Hebdo killings in Paris, orchestrated by Islamic extremists, as many as 55 anti-Muslim incidents were reported in France within a span of two weeks. And during the Sydney hostage crisis just one month prior, many of Australia's Muslims were concerned about being attacked in retribution. Even in the United States, security threats prompted Duke University to cancel playing the Muslim call to prayer from its chapel bells, stemming from Islamophobic backlash.
Of course, it will take more than hugs to eliminate Islamophobia and move society toward fully respecting Muslims. But, sometimes, a frank conversation or a shared bond works as an excellent starting point.