Something Remarkable Happened at This Year's Grammys, and It Had Nothing to Do With Snubs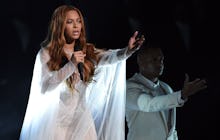 2014 was a hard year, and by and large critics felt our music failed us. "Perusal of today's Top 40, however, seems to offer little that could be repurposed to express the summer's anxiety, fear and rage," wrote Ann Powers for NPR in August 2014. The Roots' drummer Questlove put out a similar call last December. "I urge and challenge musicians and artists alike to push themselves to be a voice of the times that we live in," he wrote on Instagram. "Protest songs don't have to be boring or non-danceable or ready-made for the next Olympics. They just have to speak truth." 
It appears the Grammys were listening.
During their three-hour broadcast, we caught a glimpse of the truly revolutionary side of pop music many of us have been yearning after for awhile. These were the finest socially conscious moments of the historic 2015 Grammys. And they may be a sign that protest spirit may be about to come back to pop in a big way.
Hozier brought global visibility to LGBTQ rights with an epic performance of "Take Me Church."
Irish singer-songwriter Hozier's "Take Me To Church" was one of the finest protest anthems of 2014. Its powerful message and video, which recreated scenes depicting anti-gay violence in Russia, gave new visibility to the LGBTQ community's struggle for equality around the world. Accompanied by rock legend Annie Lennox, it made for one of the most powerful performances of the night. 
"Sexuality, and sexual orientation — regardless of orientation — is just natural," Hozier told New York Magazine discussing the song. "But an organization like the church, say, through its doctrine, would undermine humanity by successfully teaching shame about sexual orientation: that it is sinful, or that it offends God. The song is about asserting yourself and reclaiming your humanity through an act of love." It was hard not feel the love, watching Hozier and Lennox's incredible dynamic. They took America to a place where everyone is welcome.
Pharrell redid "Happy" as "Hands Up, Don't Shoot."
While a large portion of viewers were distracted by Pharrell's goofy bellhop costume and the furious dissonance of piano virtuoso Lang Lang, Pharrell slipped a show-stopping nod to the #BlackLivesMatter movement into his performance of Grammy-winning single "Happy." 
Halfway through the whirlwind number, all of his dancers — many wearing black hoodies — stopped and put their hands in the air. The position is "unmistakably synonymous with the broader movement against the killings of unarmed black people at the hands of police officers and vigilantes," Derrick Clifton wrote for Mic. The pose, however brief, added another layer of life-affirming significance to his already global, but unlikely protest anthem.
Obama made a surprise video appearance to address domestic violence.
President Barack Obama used the Grammys platform to deliver a powerful message about sexual assault and domestic violence to millions of Americans. In a PSA, he addressed Grammy artists and audiences and made it clear that "all of us" are responsible for stopping sexual assault. It's on us.
"Artists have the unique power to change minds and attitudes, and get us thinking and talking about what matters," he said, "And all of us in our own lives have the power to set an example." Obama urged Grammy artists to get their fans talking about these issues. Facing the many highly publicized instances of rape on college campuses, and the continuously horrifying rhetoric from our country's conservative politicians that children conceived by rape are "gifts from God," the time could not be riper.
Domestic violence survivor Brooke Axtell shared her story in a powerful spoken-word piece.
Immediately following Obama's video, writer, activist and performance artist Brooke Axtell took the stage and left Grammy audiences speechless with a heart-stopping account of her experience surviving domestic violence. "Authentic love does not devalue another human being," she told audiences in a spoken word poem. "Authentic love does not silence shame or abuse." Her words resonated with Grammy audiences. It sparked an outpouring of praise on Twitter, with users lauding her strength for sharing such an inspiring message with audiences.
Katy Perry brought the room to tears, dedicating a performance of "By the Grace of God" to domestic violence victims.
In a radical departure from her happy-go-lucky Super Bowl show last Sunday, Katy Perry performed one of Prism's most harrowing and resonant tracks, "By the Grace of God." She has called it the most personal song she's ever written. "It's a vulnerable song. One line talks about me lying on the bathroom floor and looking in the mirror and deciding to stay," she said of the song, according to Entertainment Tonight. "I mean you don't really have to read between the lines to kinda see there's heavy material here." It brought the stories and speeches about sexual assault to a climatic emotional head. Time reported that her soaring melodies prompted "more than a few tears in the audience." 
Prince went off-script to tell the audience #BlackLivesMatter.
Prince took the stage to announce the nominees for Album of the Year wearing a dazzling orange suit. But what he said awed audiences far more than his get-up: "Like books and black lives, albums still matter," he said, completely ignoring the teleprompter. With that line he completely stole the show, and he proved why he's one of bravest and insightful artists we have.
Sam Smith won big and made his sexuality explicit for a huge audience.
Sam Smith was absolutely the biggest story of the night. He took home four of the night's biggest awards — Best New Artist, Song of the Year and Record of the Year for "Stay With Me," plus Best Pop Vocal Album for In the Lonely Hour. GLADD pointed out his win was additionally historic, as he is the first openly gay artist to win that last award. While taking the stage for his fourth and final award, he made his sexuality crystal clear for all of America. "I want to thank the man who this record is about, who I fell in love with last year. Thank you so much for breaking my heart because you got me four Grammys," he said to tremendous applause. 
Through his stunning videos and open-hearted statements, Smith is bringing renewed visibility to the gay community through his music. But the point is clear: Great music is great music — your sexuality doesn't matter.
Beyoncé recalled the Civil Rights movement with classic gospel.
For the final performance of the night, Beyoncé took the stage clad in all white. She sang a version of the gospel classic "Precious Lord, Take My Hand." It's a song laden with civil rights history: Mahalia Jackson famously sang it at Martin Luther King Jr.'s funeral in 1968, and it appears in the movie Selma, with Jackson (played by Ledisi Young) singing it to MLK (played by David Oyelowo) to inspire him to continue his campaign to organize the Selma marches. 
Beyoncé added another layer of history to the song last night, though. During the opening harmonies her choir put their hands up, once again referencing the powerful gesture used to protest the murders of Michael Brown and Eric Garner. She and her choir ended by extending their hands to the audience and inviting them to join in the struggle to make the world understand that all #BlackLivesMatter. 
Common and John Legend brought it all home with a powerful message: #BlackLivesAlwaysMattered.
After Beyoncé's performance, Common and John Legend performed their Golden Globe-winning song "Glory," written for the movie Selma, which connects the police brutality protest of today with the civil rights struggle of the '60s. "Resistance is us. / That's why Rosa sat on the bus. / That's why we walk through Ferguson with our hands up," Common rapped. It was an incredible end to an unforgettable night. Thanks to the Grammys, the future of pop looks brighter than it has in years.