14 Things from the Grammys You Didn't See on TV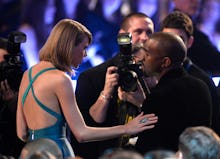 The Grammy Awards are ultimately more about the show than they are the awards. Most of the "Grammy moments" are feats of self-sacrifice: All through the night, Grammy losers like Sia, Katy Perry and Beyoncé stood and delivered the evening's best performances as if they were only there to perform and not to win or lose. It appears as an awards show, but ultimately it is a production for the audience. And nowhere is that more evident than the moments that don't make it to TV.
But a lot happens around the edges at the Grammys, and I saw some of it from my vantage in and around the audience in Los Angeles on Sunday night. From touching moments off-screen to the brief political flares, these were the things you didn't see at the 2015 Grammys.
1. The vast majority of the actual awards
The pre-televised event is more than three hours long and involves the presentation of 74 awards — only nine were given out on TV.
The Premiere Ceremony is across the street in the Nokia Theater, where there are about 10 times as many seats as people and literally no rules about who sits where and when you get up to leave. (It is for this reason that I was briefly mistaken by some as Judith Sherman, winner of producer of the year, classical.) A variety of delightful and totally random hosts give these awards out. This year, young country singer Hunter Hayes hosted while Jimmy Jam, Gloria Gaynor, Rosanne Cash, Hilary Hahn, Smokie Norful (who cleaned up the gospel section) and, most inexplicably, the director John Waters presented. 
Since the hosts were by and large the only people who could be bothered to attend, they also wound up taking home a lot of awards. In one heroic stretch, presenter and Minneapolis R&B legend Jimmy Jam ran through a list of absent rap awardees, finally gave an actual Grammy to Robert Glasper and then watched in dismay as he left it on the stage.
2. Prince went off teleprompter for his #BlackLivesMatter shout-out.
When presenting the award for album of the year, Prince boldly stated, "Like books and black lives, albums still matter." Everyone saw the moment and it drew a lot of press, but what people couldn't see is that he was actually breaking from script — the teleprompter had none of his Black Lives Matter text on it. As the nominations rolled onscreen, someone ran onstage and spoke to him.
3. The Staples Center concession stands
Music's biggest night looks pretty glamorous on TV, but there's ultimately not much you can do about the Staples Center's intrinsic Staples Center-ness. It basically feels like you're at a Lakers game with the biggest musicians in the world. Most notably, mortals and superstars alike must pay an inordinate amount for lukewarm pretzels and syrupy coke. It is the great equalizer.
4. The best acceptance speech of the night happened well before the show.
The 47th award of the day began like any other. A group of people affiliated with the Oscar-winning documentary 20 Feet from Stardom rose to accept the award for best music film. It was an odd group, though: A young boy, accompanied by his little sister, delivered the acceptance speech on behalf of their recently deceased father, famed producer Gil Friesen.
Theo Friesen read a speech while his sister rested her head against his velvet jacket. His father had three goals for the film: "1. Have fun. 2. Don't lose money. And: 3. Win an Oscar. He did all those. This Grammy is special because it comes from the music world, which was close to his heart."
5. While most people are too cool to get their Grammys, A Great Big World certainly were not.
"Oh my God. This is our first Grammy. First Grammy nomination."
"My heart is beating so fast."
6. Pharrell clearly disapproved of Taylor Swift's interpretive dancing.
Taylor Swift has notoriously long and expressive arms. She sits near the front at the Grammys, presumably so the camera can film her outsized and sincerely human reactions. This year, she was in full force, completely unaware of Pharrell's deep discomfort, as Gawker reports.
7. "Weird Al" Yankovic had the funniest speech of the night.
After a string of absent winners at the pre-televised event, Weird Al Yankovic came bounding out of the audience to accept his award.
"I signed my record contract in 1982," he said. "It wound up being a 14-album deal. And as it turns out, Mandatory Fun was my 14th album. So in just 32 short years, I was able to fulfill my contractual obligation."
8. The people from Frozen are getting a little sick of "Let It Go."
The Frozen songwriters are now entering their second of two award seasons for the same film, a film which came out in 2013, dominated music sales in 2014 and spawned a hit so big it was still culturally relevant come New Year's 2015. Shortly after winning the Grammy for best compilation soundtrack for visual media, Kristen Anderson-Lopez and Robert Lopez, the couple behind "Let It Go," were dragged onto the stage once more for best song written for visual media.
"A friend of ours sang on a couple tracks on the album and she has a little nephew who came up to her recently and said, 'Were you on Frozen?' and she was like 'Yes, yes I was.' And he said, 'How did you get out?' And it was funny because I don't think we'll ever get out of Frozen at this moment," said a rattled Kristen Anderson-Lopez. "And that's because the movie and the song seem to resonate with so many people."
9. The commercial breaks are just old Grammy shows.
While the commercials run on TV, the Staples Center hosts a short viewing of "Grammy moments." On Sunday night, they replayed Mick Jagger's 2011 performance, Paul McCartney's 2012 outro, Imagine Dragons and Kendrick Lamar's epic 2014 performance, Ziggy Marley's 2013 performance, Macklemore's banner "Same Love" performance from 2014 and Adele's 2012 performance, among others. These play while roadies scurry around assembling massive new sets in the span of a few minutes. They also play while Madonna's strange deer creatures congregate.
10. Kanye began to storm the stage when Beck won album of the year.
In a bizarre revival of his 2009 MTV Video Music Awards incident with Taylor Swift, Kanye West actually began climbing onto the stage after Beck won album of the year — presumably to announce that Beyoncé had the best album of the year. He was barely caught on camera, but though many played it off as a joke, West was deadly serious, later telling E!, according to Vanity Fair, "I just know that, the Grammys, if they want real artists to keep coming back, they need to stop playing with us. We aren't going to play with them no more. Flawless. Beyoncé's video. And Beck needs to respect artistry, he should have given his award to Beyoncé."
11. Jay Z was mortified.
12. Taylor Swift, Kanye West, Jay Z and Kim Kardashian turned it into a photo op.
As soon as the next commercial break started, the four stars met in the center aisle to pose for photographs, clearly signaling that there were no hard feelings. None. Whatsoever.
13. Everyone has a teleprompter.
The Grammy Awards are essentially a dry karaoke bar that the entire world is watching. When you get to the older acts, like Tom Jones with Jessie J, it looks a bit like senility but is ultimately touching.
14. The after-parties
The after-parties are when it becomes clear that the music industry is your high school experience aged 10 to 50 years and pumped full of money. Some labels throw corporate parties at nearby restaurants and musicians swing by their respective companies on the way to a musician-hosted party, like Pharrell's, or a hip party, like the impenetrable GQ event where you could see both Janelle Monae and her hat.