12 Beautiful Photos of Same-Sex Couples Making History as Gay Marriage Comes to Alabama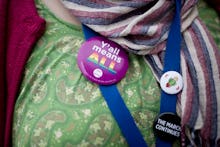 The struggle for marriage equality took a remarkable turn on Monday, as some counties in Alabama began issuing marriage licenses to same-sex couples amid an extraordinary legal confrontation between the state's Supreme Court chief justice and federal courts.
On Sunday night, the day before same-sex marriages were set to begin in the state in accordance with a federal court ruling, Chief Justice Roy Moore of the Alabama Supreme Court ordered the state's probate judges refrain from marrying gay couples, according to a report by AL.com. 
Arguing that state courts were not bound by the federal court ruling, Moore declared that any licenses issued would be diverging from state law. The federal ruling allowing same-sex marriage is currently being appealed by the state. 
Then, on Monday morning, the U.S. Supreme Court "denied a request by the Alabama attorney general to extend a hold on same-sex marriage," according to the New York Times.
Caught between conflicting cues, probate judges in some counties began granting marriage licenses to gay couples, while other judges held back from issuing any marriage licenses at all.
Despite the fact that same-sex couples were not able to marry in many counties, hundreds of gay couples did successfully get hitched at courthouses across the state. Here are some of the best photos capturing the experience: 
In Montgomery, Tori Sisson and Shante Wolfe became the first gay couple in the county to tie the knot.
Birmingham courts began issuing marriage licenses for same-sex couples as demonstrations continued outside.
Madison County couples exchanged vows:
While couples in Etowah County say "I do":
It's not controversial for a state to contest the legal authority of lower federal courts (that is, federal courts below the U.S. Supreme Court) through an appeal, as Moore was, but his order for state officers (like marriage license-issuing probate judges) to defy a federal order is a major transgression for a state judge.
The tumult over state rights vs. federal government bears more than a little resemblance to past conflicts between the state and the federal government over another civil rights struggle: desegregation. In 1963, Alabama governor George Wallace famously stood in a doorway to block two black students from attending the University of Alabama in an attempt to fend off federally mandated racial integration.
It should be interesting to see how the legal quandary enveloping Alabama evolves in the coming months. In the meantime, some are celebrating an incremental victory in the state — including some of the judges who oversaw the marriages.
"This is a happy day for all of these couples, and if you can't be happy for people, then I'm sorry. If someone can't understand the joy and happiness of others, then I don't know what else I can say," Judge Alan L. King in Jefferson County, told the New York Times.