Beck Is One of the Most Brilliant Artists of Our Time — And Twitter Has No Idea Who He Is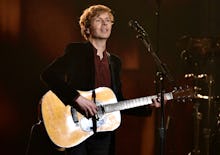 Beck caused a huge upset at the Grammys Sunday night when he won album of the year with his 17th studio album, Morning Phase. Beyoncé's self-titled album was so heavily favored that most people were too upset about her loss to begin to consider that Beck, one of our greatest living songwriters, may have deserved it. In fact, people were too upset about Beyoncé's loss to realize that Beck even exists.
For those who don't know Beck, here are the highlights. His debut studio album, Mellow Gold, went platinum in 1995, and his second studio album, Odelay, went double platinum in 1998, so he isn't exactly a niche act. He's been nominated for 16 Grammys and won three between 1996 to 1999; that number should have been four, but his Odelay was robbed by Celine Dion, of all people. Beck is a trailblazer, a prodigy, a rock icon. He's a legendary musician who's been making his special mix of rock, folk and hip-hop for 22 years. 
Morning Phase is not Beck's best album, but it is a true work of art. And had it been ignored, it wouldn't have been the first time — Guero, The Information, Modern Guilt, Sea Change, Midnite Vultures and most of all Odelay and Mellow Gold all deserved Grammy wins. So to those Beck novices who were surprised at his win this Sunday, think of it as a lifetime achievement award. Beyoncé has only released four solo albums; her time will come. 
But who is Beck? Beck Hansen was born in L.A. in 1970 to a family of artists. His dad was a string conductor, and his mom was a regular at Andy Warhol's Factory. After dropping out of school in 10th grade, Beck took to the streets of L.A. to busk and attend poetry slams, where he presumably showed everyone up. At 17, he moved to New York for a couple of years before returning to L.A., where Bong Load Records helped him record "Loser" in their lead producer's kitchen.
From that inconspicuous start rose one of the greatest songs of the '90s. "Loser" gained a lot of momentum in the L.A. underground, and before long, Beck signed with the major label Geffen. In 1994, Geffen released Mellow Gold, on which "Loser" was the lead single. In his first-ever interview with Rolling Stone, Beck, in with this hilariously oblique quote, talked about Mellow Gold:
"The whole concept of Mellow Gold is that it's like a satanic K-Tel record that's been found in a trash dumpster. A few people have molested it and slept with it and half-swallowed it before spitting it out. Someone played poker with it, someone tried to smoke it. Then the record was taken to Morocco and covered with hummus and tabouli. Then it was flown back to a convention of water-skiers, who skied on it and played Frisbee with it. Then the record was put on the turntable, and the original K-Tel album had reached a whole new level. I was just taking that whole Freedom Rock feeling, you understand."
His weirdness was charming, not alienating. "Loser" was a huge hit. But Beck's next album, Odelay, shot the eccentric musician to stardom, and cemented him as one of the leading musicians of the '90s. Nearly 20 years after Odelay's release, Rolling Stone named it the 9th best album of the decade. Beck used every type of music at his discretion, digging through found vinyl to make a new brand of rock that encapsulated blues, hip-hop, soul and lounge music. He embodied '90s culture and shaped rock unlike any other band except Nirvana or Pearl Jam. He was, arguably, one of the world's earliest hipsters. 
But Beck didn't stop in the '90s. He released another 15 albums into the new millennium, and he reinvented himself with nearly every one: Midnite Vultures was a Prince record dressed up as a '90s indie tape, Sea Change was psychedelic folk, Guero was Latin roots rock, The Information was hip-hop, Modern Guilt was retro alt-rock. And every single one of those albums kicked ass. For such a prolific musician to adapt and change like that is unprecedented. 
That brings us to 2014's Morning Phase, which is technically a companion piece to 2002's Sea Change. It's not exactly rock, as the Grammys board would have you believe. (Morning Phase won best rock album in addition to best album.) It's closer to folk, with a dash of psychedelia and orchestral arrangements. The album is truly beautiful, a work of art, and just that: an album. Like Prince said, albums still matter. This one is seamless and cohesive, yet each track has its own distinct personality — it acts like a good album should but breaks the rules at the same time. And while Kanye may think that "Beck needs to respect artistry" and that "he should've given his award to Beyoncé," Beck has a good 10 years of hard work honing his craft on Beyoncé. She's great; but so is he. The only difference is that she has 16 more Grammy wins than he does. He's hardly the establishment here.
When he beat Beyoncé, it seemed for a moment like the world ended. But instead of trashing this amazing artist, people who don't know Beck should just check out his music. They'll probably be surprised at what they hear. #WhoIsBeck is a good question because it has a clear answer: He's quite simply one of the best songwriters ever to live.