Two Women Broke 26 Prisoners Out of a Brazilian Jail by Dressing Up as Sexy Police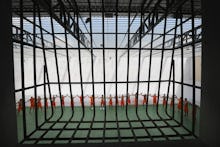 In the newest edition of news that could pass as the plot of soft-core Cinemax porn, two women dressed in skimpy police uniforms seduced and drugged two on-duty guards before breaking 26 convicts out of a prison last Thursday in Nova Mutum, a small city in the interior Brazilian state of Mato Grosso. 
According to local reports, the two women arrived early Thursday morning and began seducing two prison guards (because that's not suspicious at all) while offering them spiked whiskey. 
Though the exact events of the night aren't entirely clear, the next morning officials found the bottles of spiked whiskey and provocative police-themed lingerie next to the hand-cuffed and passed-out guards. One of the women is believed to be the girlfriend of one of the escaped inmates. 
"We assume that is what the women were wearing when they seduced the guards," Willian Fidelis, a spokesman for the Justice Secretariat of Mato Grosso, which oversees prisons, told CNN.
By Sunday, 11 of the escaped inmates had been recaptured and police are tracking down the rest of the convicts who took three 12-gauge shotguns, two handguns and several .38 caliber ammunition as they reportedly "left by the front door," police Chief Angelina de Andrades Ferreira told a news conference, reports International Business Times. 
The guards in question have been arrested for negligence, as has the director of the prison unit, who was on duty at the time but not directly involved in the sexy prison break.
"Nothing like this has ever happened," Fidelis told CNN. "Nova Mutum is a small city. People haven't talked about anything else since it happened. Especially since 15 prisoners are still out there."
Though, to be fair, has anything like this ever happened anywhere? Well, yeah: in porn.