The Grammys Just Proved That One Man Was Behind All the Biggest Pop Music in 2014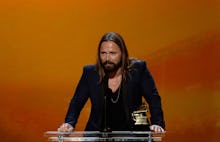 The producer of the year award didn't get any air time during the Grammys' televised broadcast, but it was arguably the most important of the night. On Sunday, it was the award that said the most about the state of pop. It revealed that one man is behind our music's dominant sound: Swedish pop savant Max Martin.
Martin has been one of the most secretive but influential contributors to pop music in the past two decades. One glance down the long list of hits he produced and co-wrote last year shows just how important he was in crafting 2014's pop — and why his genius is leading our popular music towards a homogenized sound. Here are a few of his year-defining hits:
"Bang Bang" by Jessie J, Ariana Grande and Nicki Minaj
And these were just the ones that made that top 10. Martin produced and co-wrote seven of the 13 tracks on Taylor Swift's 1989, 10 of the 13 tracks on Katy Perry's Prism and all of the biggest hits off Ariana Grande's My Everything (including "Problem" and "Love Me Harder"). He co-wrote Jennifer Lopez's comeback earworm "First Love," Shakira's World Cup anthem "Dare (La La La)" and Pitbull's "Wild Wild Love," the lead single off his Globalization album.
Martin's reach is absolutely awe-inspiring. But his 2013-2014 hits are just the most recent iteration of something he's been doing to American pop for decades.
He's behind the whole modern pop sound. Pretty much the entire history of the synth-y, irresistibly simple pop music we hear today can be traced through Martin's production discography.
His legacy stretches back to the late '90s, when he scored his first hit with the Backstreet Boys' 1997 "Quit Playing Games (With My Heart)" and scored his first No. 1 single as a songwriter with Britney Spears' "...Baby One More Time" in 1999.
He's since topped the charts with 18 more, writing for N'Sync, P!nk, Kelly Clarkson, Maroon 5, seven songs for Perry and three for Swift. These make him the songwriter with the third most No. 1 singles, trailing only Paul McCartney, with 32, and John Lennon, with 26. To put it more bluntly, Martin is responsible for more No. 1 singles than Michael Jackson. 
Most pop fans have no clue who he is or what he's about. That's because he's notoriously press-averse. But Martin's hits create whole new paradigms for pop — they are the roadmap by which American music all winds up at the same sonic destination. Yet his biography might actually be our path out of that homogeneity.
He shows the true power of music education. Martin has credited his ability to create divine pop to Sweden's incredible public arts education system. "I have public music education to thank for everything," he said in Pigeons and Planes. A close look at Sweden's public arts education system shows how powerful it is — and why it generates so many successful American pop influences. 
Since the 1940s, the Swedish government has offered high-quality music training for almost all of its citizens in subsidized after-school programs. Fees are more common these days, but they're still absurdly low. It fits with the government's democratic aims to ensure every student has an equal opportunity to share in culture and cultural creation.
Because of this incredible program, Sweden has maintained an inordinate influence on global pop, with Martin at the helm, but he's hardly the country's only star. Frequent Martin collaborator Shellback also hails from Sweden, along with Andreas Carlsson, Rami Yacoub and Christian Karlsson — all unknown names with impressive discographies. Recent breakout stars Tove Lo and Mapei have emigrated to the U.S. airwaves, "reinforc[ing] the fact that the Swedish sound may now be the reigning pop language everywhere," according to the New Yorker.
King of the movement. According to 
 Neetzan Zimmerman, Martin's dominance on pop radio "explains better than anything why everything sounds exactly the same." It's true: Though Martin is undeniably a genius, his legions of imitators make for an increasingly 
 sound. 
But just as Martin is part of the problem, he's also our answer. One of the best ways to help broaden the spectrum is to improve the United States' ailing public education system, a move that could give American kids the chance to become Max Martins on their own. Because Martin is a genius; it's just the fact that he's alone at the top that makes for our music's homogeneity. It's time to take his legacy and its implications seriously.