Watch Beyoncé Explain the Powerful #BlackLivesMatter Message of Her Grammys Performance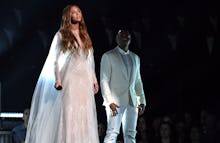 Beyoncé's closing performance of the gospel classic "Take My Hand, Precious Lord" at Sunday night's Grammys was simultaneously one of the most transcendentally beautiful and politically incisive of the night. During one of the song's first soaring harmonies, Beyoncé's choir, made up entirely of young black men, all put their hands above their heads. This seemed to be an unmistakable nod to the iconic "hands up, don't shoot" protest surrounding the deaths of the unarmed Michael Brown and Eric Garner last year. 
And in a new video on Monday, she revealed just how deep the connection runs:
The behind-the-scenes video shows clips from the performance's rehearsals. It features interviews with Beyoncé and several of her dancers, many of whom have experienced instances of police brutality in their lives.
"I've been through a few things with the police: being pulled over for nothing, being assaulted for nothing, not having broken any laws or anything," says one of Beyoncé's singers in the video. "But my case and things that I've gone through are very menial compared to death and things that have gone on in recent years."
Beyoncé also shares stories from her own family's past dealing with racism. "My grandparents marched with Dr. King, and my father was part of the first generation of black men that attended an all-white school. And my father has grown up with a lot of trauma from those experiences," she says. "I feel like now I can sing for his pain, I can sing for my grandparents' pain. I can sing for some of the families that have lost their sons."
The stories add new layers of depth to what was an already soul-stirring performance. Watch the awe-inspiring performance here if you missed it at the Grammys. And bow to the brilliance that is our next true soul legend — Beyoncé Knowles-Carter.
h/t Salon