These Are the 11 Defining Songs of the Year (So Far)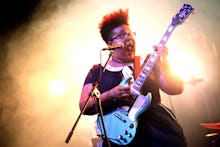 We're just six weeks into 2015, but there has already been enough great music released to signal one hell of a year to come. From new offerings by major stars to debuts from burgeoning indie artists, what is typically a slow month for new music has been anything but. 
The following tracks represent just a sampling of the best songs that have had an impact on music in 2015 so far. 
"Only One" by Kanye West
Kanye surprised everyone when he dropped "Only One" in that temporal purgatory between New Year's Eve and New Year's Day (some call it midnight), a surprise that reignited the debate about just when the unpredictable artist would release the hotly anticipated follow-up to 2013's Yeezus. This song, a collaboration with Paul McCartney, shows the softer side of a man who, especially since the Grammys, hasn't been known for his sensitivity. 
"Glory" by Common & John Legend
2014 was a year marred by racial turmoil, making the early January release of Selma, this year's biggest Oscar snub, all the more powerful. Common and John Legend came together to write "Glory" for the film and have since performed the moving song at the Grammys. They will also perform at the Oscars, where they are nominated for Best Original Song.
"The Blacker the Berry" by Kendrick Lamar
Kendrick Lamar may have lightened the mood a bit when he released "i" in September 2014, but he's as serious as he's ever been on "The Blacker the Berry," a new track he debuted yesterday. Fierce, scathing and dark, the track tackles the flip side of self-love Lamar was celebrating on "i," also potentially referencing the backlash to comments he made about events in Ferguson in an interview with Billboard. This is Lamar at his best, and all but guarantees us an amazing follow up to good kid, m.A.A.d city. 
"Don't Wanna Fight" by Alabama Shakes
The Alabama Shakes made a huge impression on both the rock and folk scenes when they broke out with "Hold On" in 2012. Now they're back and better than ever with "Don't Wanna Fight," the funky first single from their upcoming album Sound & Color. If Brittany Howard's flawless high notes don't have you dancing, that Prince-inspired guitar part is sure to.
"Style" by Taylor Swift
Although Swift is still hanging around the Top 5 of the Billboard Hot 100, there's soon to be a blank space on radio playlists that can only be filled by "Style," the newest single from Swift's mega-smash fifth album 1989. An '80s-inspired number that has featured heavily in positive reviews of the album, "Style" could be an even bigger hit than "Blank Space," a single poised to take a long time to, ahem, go out of style.
"Little Red Wagon" by Miranda Lambert
2014 was a huge year for Miranda Lambert, with her sixth album Platinum ending up on best-of list after best-of list. Latest single "Little Red Wagon" is a scorcher, just one more ass-kicking barn burner in Lambert's already impressive repertoire. Her fiery performance of the song at last Sunday's Grammys was one of the evening's best, and this single is sure to be one of her biggest hits yet.
"Hurricane" by MisterWives
MisterWives had a breakout hit in 2014 with "Reflections," a song that will eventually be featured on their forthcoming debut album, Our Own House. "Hurricane" is the latest offering from that album, and it's a huge pop anthem — one that could easily be big enough to take them from Spotify darlings to bona fide Top 40 players.
"Love Me Like You Do" by Ellie Goulding
We're only a few days away from the release of the Fifty Shades of Grey movie, but it's the soundtrack that has us really excited. Released on Tuesday, the album features new music from Beyoncé, The Weeknd and this career highlight from Ellie Goulding, a Max Martin-produced track that will surely be used to score one of the movie's emotional (or sexual) crescendos. 
"Pedestrian at Best" by Courtney Barnett
When Courtney Barnett released The Double EP: A Sea of Split Peas in 2013, fans and critics alike were instantly taken by her wry lyrics and deadpan delivery. Now, on the verge of releasing her full-length debut Sometimes I Sit and Think, and Sometimes I Just Sit in March, the Australian singer-songwriter has shared the album's first single, "Pedestrian at Best." With all the charm that made "Avant Gardener" a breakout hit for Barnett, "Pedestrian at Best" is a sign of one solid album to come. 
"No Cities to Love" by Sleater-Kinney
Aside from having what has to be one of the greatest music videos of all time (Connie Britton and Natasha Lyonne, anyone?), "No Cities to Love" is the amazing title track from an even more amazing album, the seminal punk trio's first since going on hiatus in 2007. Comeback records are always dangerous, especially for bands with a legacy as important as Sleater-Kinney's, but luckily No Cities to Love is chock-full of songs just like this one.
"Why Don't You Believe in Me" by Natalie Prass
We're gonna go ahead and call it: 2015 is the year of Natalie Prass. The Nashville-based singer-songwriter has stitched the best of vintage pop and soul influences into her self-titled debut album, and it makes for one hell of a listening experience. Just be careful when you listen — you won't be sure if these deceptively upbeat tunes about relationships gone wrong will make you want to dance or cry.