Spider-Man Is Finally Joining Marvel Studios in a New Deal With Sony Pictures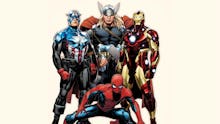 Get excited, Marvel fans: After years of separation and speculation, Spider-Man will appear in upcoming movies produced by Marvel Studios. 
A deal has been announced between Sony Pictures and Marvel to feature the beloved superhero in an upcoming movie set in the Marvel Cinematic Universe, where the wildly successful films featuring Captain America, Thor and the rest of the Avengers take place.
The film will be produced by Marvel Studios chief Kevin Feige and former co-chair of Sony Pictures Amy Pascal and released by Sony Pictures on July 28, 2017.
The timing of the deal is fortuitous for followers of Marvel's intricate story arcs. The Verge notes that Spider-Man is likely to make his first Marvel movie appearance in Captain America: Civil War — a popular storyline which many fans argued would require Spider-Man to effectively tell onscreen — in May next year.
"We always want to collaborate with the best and most successful filmmakers to grow our franchises and develop our characters. Marvel, Kevin Feige and Amy, who helped orchestrate this deal, are the perfect team to help produce the next chapter of Spider-Man," said Michael Lynton, Chairman and CEO of Sony Pictures Entertainment, in a statement. "This is the right decision for the franchise, for our business, for Marvel and for the fans."