Meet the Women Proving That Lifting Is for Everyone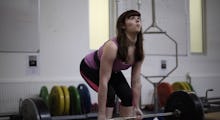 What's not to love about strong women? The female lifters of the Oxford University Powerlifting club offer a clear answer: nothing. 
People are quick to envision lifters as hulking men heaving giant dumbbells. But the female lifters of Oxford are challenging this stereotype in a new video titled "Lift Like a Girl," which not only pushes back on stereotypes about female lifters, but also encourages broader female participation in the sport.
"I think it's really important that women feel empowered to take part in lifting, especially as it's not seen as a traditional women's sport," the team's captain Abi Willett told the Huffington Post. "There's a stereotype that either women can't lift or that women who lift somehow become 'manly."' 
Your body, your power: Beyond debunking myths, female lifters want other women to know how empowering the sport can be. Though she no longer powerlifts due to an injury, blogger and former powerlifter Dana McMahan told Mic that lifting helped her feel "emotionally and mentally and physically stronger and more capable." She felt she was "able to tackle huge challenges" that seemed insurmountable before she started lifting. And McMahan said lifting taught her she could "do anything I really, really want to do if I work hard enough — and that applies everywhere in life, not just lifting weights."
For McMahan, lifting revolutionized her body image and encouraged her to believe "a woman who is strong and capable and sure of herself is beautiful more so than any other stereotypical ideal." Oxford team captain Abi Willett echoed this. "Before I started lifting, I had struggled a lot with my body image," she told Mic. After finding lifting, she started to see her body as "strong rather than ornamental." 
"I think we have a real cultural problem in that women are taught they must exercise in order to diminish their figures rather than to become strong and healthy," Willett said.
Breaking down barriers: Lifters in all types of lifting communities face stereotypes. Or they must push back on the misconceptions held by individuals who are unaware that women lift at all. Women's presence in major lifting competitions is, in many circumstances, recent. For example, Olympic weightlifting was only opened to women 15 years ago. 
Yet lifting is increasingly popular among women. Over half of USA Weightlifting's national event competitors are women, the organization's director of events and programs Phil Andrews told U.S. News & World Report. On a smaller scale, Becca Steinman of the South Brooklyn Weightlifting Club told Mic that the club's April powerlifting meet will be 43% women. And the increased popularity of lifting among women is not just a Western phenomenon: Women are training as competitive weightlifters in the United Arab Emirates, for example, and weightlifting is the only women's national team of the six nations of the Gulf Cooperation Council, according to the New York Times. 
Building communities: Furthermore, the female powerlifting community is a supportive, tight-knit one according to these lifters. "The women at SBWC tend to bond because of their time together lifting," Steinman said. "I think that the desire to get stronger connects this group on a much deeper level." 
Willet told Mic that she's met "incredibly strong women," through lifting and believes her female teammates are to thank for creating such a supportive atmosphere. "As well as becoming more secure in my body," she told Mic, "I've become more secure in myself."
As one of the Oxford lifters notes in the video, weightlifting "allows you to get strong, but that doesn't conflict with being a woman." This woman, her teammates and all female lifters prove that strength and womanhood aren't conflicting — they're synonymous.