Kendrick Lamar Just Celebrated His Grammy Wins by Releasing This Brilliant Single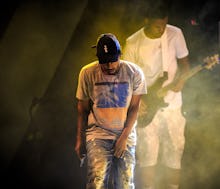 While the Internet squabbled over the Beyoncé vs. Beck snubfest, Kendrick Lamar quietly dominated at the Grammys. Nobody saw it on their TV sets, but during the Grammys preshow, where the Recording Academy gives out the majority of awards, Kendrick Lamar's soulful single "i" took home Best Rap Performance and Best Rap Song. As a victory lap, Lamar released a brand new single Monday night through a tweet from Empire actress Taraji P. Henson. And it's absolutely amazing.
Titled "The Blacker the Berry," the new track has none of "i"s easygoing vibe. It's hard-hitting and politically incisive.
It's a passionate statement on race in America. The song shows Lamar nearing the lyrical skill of his earlier song "Control." On that breakout track, Lamar called out all the biggest rappers in hip-hop by name, telling them he was going to murder them lyrically. He absolutely delivers on that promise here. His voice is guttural and urgent, and it locks into the thunderous beat perfectly. His three verses all start with the provocative line "I'm the biggest hypocrite of 2015 / Once I finish this, witnesses will convey just what I mean," going on to detail different aspects of the black experience in America.
The first verse and second verses deal with Kendrick's experience with the systematic racism of our culture. He's especially critical of our country's justice system: "It's evident that I'm irrelevant to society / That's what you're telling me, penitentiary would only hire me." Lamar's appraisal rings true. A 2013 Pew study claimed that black men were six times more likely to be incarcerated than white men. And the Equality and Human Rights Commission found that black men are 28 times more likely to be stopped by police.
But this is a deeply nuanced song. Lamar's third verse flips the script and repeats his controversial view that focusing entirely on white oppression misses some larger points: "So why did I weep when Trayvon Martin was in the street? / When gang-banging make me kill a nigga blacker than me? / Hypocrite!"
The lines match with previous controversial claims he's made that the black community has to work to root out its own gang violence and negativity before blaming oppression entirely on the outside white community.
"I wish somebody would look in our neighborhood knowing that it's already a situation, mentally, where it's fucked up. What happened to [Michael Brown] should've never happened, never," Lamar told Billboard. "But when we don't have respect for ourselves, how do we expect them to respect us? It starts from within. Don't start with just a rally, don't start from looting — it starts from within."
These claims drew a tremendous amount of controversy and backlash on Twitter, most vocally from Azealia Banks, who called him out for opening up to "a white publication."
But the cutting sociopolitical critique in the first and second verses of "The Blacker the Berry" proves that he does know about those generational effects. Still, Lamar still insists racism has cultural roots within the black community in addition to the structural controls from systematic racism. Lamar's hardly the first to argue this view, as Marc Hogan from Wondering Sound points out, directing readers to an incredible essay written by former music critic Kelefa Sanneh in the New Yorker, which explains the "culturalist" tradition. This song is a strong entry into that line of American thought.
Lamar's breathtaking "The Blacker the Berry" will undoubtedly bring this controversy right back to the forefront. But this is part of Lamar's artistic power. Whether or not you agree with his views, his ability to provoke enlightening discussion with his endlessly dissect-able lines is unparalleled. Stay tuned as his sophomore album nears its still
.
h/t Wondering Sound