Mexicans Are Stripping Down to Stage a Radical Protest Over the 43 Missing Students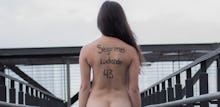 For the past several months, Mexico has been rocked by the mysterious disappearance of 43 students of Raúl Isidro Burgos Rural Teachers' College of Ayotzinapa in late September last year. Soon after, violent protests broke out over the perceived, and later all but confirmed, collusion in their disappearance between local government and drug cartels. In January, the students were confirmed dead.
Though the incident has gained some media attention in print, as the saying goes, "a picture is worth 1,000 words." This was probably the motivation behind Poner el Cuerpo, Sacar la Voz (roughly translated as "Use the Body, Express Our Voice"), a new art project from the mind of photographer Edgar Olguín to protest the students' deaths by using bodies to express voices.
NSFW below:
Starting on Jan. 26, Olguín posted a set of photos on Tumblr, along with a message from art critic Cristina Híjar: "Suddenly, this body movement, this body politic, it breaks routine and transcends urban space in a two-dimensional way: through its nakedness and political message."
The project may seem to be going for shock value, but as Olguín points out, this method may be the only way to gain people's attention, given the otherwise grisly facts that have surrounded the ongoing case.
"In our society, it's more alarming to see a naked body than to see a charred cadaver in Column Eight of the newspaper," Olguín told La Jornada.
Olguín explained that he wanted to release the images as publicly as possible, rather than on social media like Facebook or Instagram where they would be censored, in order to get the project to as many people as he could. "From the very beginning, our aim was to exhibit the project in the largest gallery of the world: the Internet," Olguín said, according to Artnet News. "We did not want to commodify this project."
Each photo features one or more nude models with messages scrawled on their bodies, such as estado asesino (murder state), 4 meses impunidad (four-month impunity) and seguimos luchando (we are still struggling).
Sara Yatziri Guerrero Juárez, an 18-year old model featured in the project, told Dazed that her participation stemmed from "a need to share a silence in a country that sees six femicides a day and where the government disappears students." 
The photos series, which was released to coincide with the four-month anniversary of the students' disappearance, is still small right now, but Olguín is planning to make this a living project that will grow with time. 
h/t Dazed