12 Brief Thoughts on Attending the Grammys as the Least Famous Person in the Room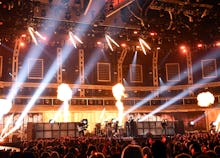 When the Uber driver finally gave up about two blocks away from the Grammys, my date and I walked. Coming up on a highway underpass, we could see the entry arch well enough to start feeling a little glamorous. Then, a beat-up Civic pulled up alongside us, and a man in a suit asked, "Hey — you guys aren't seat-fillers are you?"
This was a fair reality check. If you've seen a man — any man — between 18 and 35 at a formal event, then you've seen the suit I was wearing. My close friend from college, Grace, cobbled together her outfit in a heroic effort not to send me to the Grammys solo (sorry, Grace) after Rent the Runway lost her dress. I'm an editor and a musician, but the Grammys still felt more like a lucky break than anything else. All in all, my Uber driver said it best when I got into his car at 11:30 a.m. that morning and handed him a series of flyers detailing where he could and could not drive: "The Grammys?"
Thanks to a red eye back to New York, I have lived and written about the Grammys for enough near-continuous waking hours (54) to share a few brief thoughts on what it meant to a lifelong music fan to go to music's biggest and most maligned event. I came to Los Angeles expecting superficial showmanship, and I discovered that something far deeper was on display.
The show is definitely not about the awards.
If you go to the Grammys to see an awards show, you best arrive early. The unaired event was casually renamed the Premiere Ceremony likely so as not to give the impression that the recording academy couldn't care less about the awards themselves. Grace and I arrived late, technically, but were, in fact, some of what I'd estimate at less than a thousand people in the hall. The audience ebbed and flowed throughout the whole event, which was exceedingly bizarre and featured the presentation of 74 of all 83 Grammy awards (thus confirming that the televised event has basically nothing to do with the awards).
Musicians were not meant to be hosts.
The Grammys were hard-pressed to find a more seemingly random host than LL Cool J (this marked his fourth year in the role), but at the Premiere Ceremony, they outdid themselves. Young country star Hunter Hayes co-presented alongside a disembodied, booming voice with a vicious zeal for correctly pronouncing nominees' names and overriding the diminutive Hayes. Together with an equally odd assortment of presenters (Reverend Smokie Norful and director John Waters each held court toward the end), they boldly led a crowd of restless music industry folks through an infinity of the most esoteric awards imaginable. 
The Premiere Ceremony as a whole is a strange and mighty beast.
It began with the wholly inauspicious award for best new age album (The Winds of Samsara) and rapidly cycled to best recording package, best boxed or limited edition package, best album notes and best historical album. After The Winds of Samsara, a handful of people stood up and left. Hayes quickly moved on to best regional roots album and the voice began tolling off names. A balding man behind me leaned over my shoulder: "I think I just lost the button for my shirt," he said before launching himself toward my feet. The man next to me, whose accent deserved to be nominated in the best regional roots category, helpfully suggested, "Too many tacos, huh?"
It went on like this for roughly three and a half more hours.
The music industry cannot behave itself, but it's surprisingly earnest.
The people who came are the people who live for music. They labor over projects that must seem quietly personal until they're gilded in gold. As the hall emptied and filled in constant flux, a few lucky people addressed themselves to their careers and loved ones. The son of famed producer Gil Friesen, the producer of 20 Feet From Stardom, gave a touching speech in honor of his recently deceased father alongside his sister. One of the engineering team behind Morning Phase, the album that would go on to win the night's biggest award, thanked his wife for making him lunch daily as he toiled on the record's sound. The group behind best classical compendium winning Plectra & Percussion Dances talked about preserving the legacy of 43-tone music. Max Martin, after decades of music and over 50 Top 10 songs, won his first Grammy and seemed genuinely thrilled. There was little pretense, much disorder and a stirring faith in what music can actually do.
The Staples Center is always the Staples Center.
I ate overpriced cold pretzels and Coke and was glad for it — the Premier Ceremony is more like a hunger strike against television than anything else. Across from the Nokia Theater, the Staples Center was busy being the Staples Center. The extent to which it remained unchanged throughout this event is stirring in its own right. Music's biggest night is also its most glamorous, and there is nothing glamorous about balancing your overpriced french fries on a trash can because it is the only available surface. It's a small but sure reminder that the Grammys are ultimately more about the audience than the artist.
The artists are not there to win awards.
The Grammys are a big concert; they aren't an award show. Nobody shows up to the pre-televised event. Jimmy Jam took home more Grammys than I'd seen in my life (to be fair, the count was at zero before it shot up to 83). Not only do the stars not care to collect their awards, but they are often performing with the knowledge that they have lost for the night. This recasts the performances in a more public-minded light — it isn't a competition or even a vindictive feat. The point isn't to recognize music; the point is to put on an incredible show.
This year's Grammys were a story — from hell to heaven.
We began with AC/DC and an audience in devil horns and ended with Beyoncé, clad in white, singing about God. From Hozier's "Take Me to Church" to Sam Smith's "Stay With Me" to Katy Perry's "By the Grace of God" and, finally, Beyoncé's "Take My Hand, Precious Lord," the biggest moments of the night were about salvation — secular and otherwise. Based on the persistence of #BlackLivesMatters symbolism throughout the evening, our demons were well on display. Our salvation, they would suggest, lies in our music and the ability to sing a world mercifully unlike our own.
The Grammys are always about history.
During the commercial breaks, the Staples Center is transported into the past. As we watched roadies tear down sets and erect new ones in their places, a screen would descend and play older "Grammy moments" as if to ask what history would be made tonight. A Grammy moment is a performance that can be remembered as jaw-dropping, not necessarily one that was. But the Grammy moment is also at the heart of why the Grammys matter to artists: They're a testing ground for who will last as legend and who will fade as fad. Grammy awards reward accomplishments across a year; a Grammy moment is a stand against time — a sign that you might be one of the greats rather than part of a trend.
Everyone looks like Hozier.
I am not familiar enough with what Hozier looks like to say when a tall guy with curly hair is not Hozier, but I am aware enough of Hozier to know that he's Irish and not yet hip enough to evaporate immediately from the Grammys, as most stars do. As a result, I spent a good portion of the evening seeing Hozier where there was no Hozier to be seen. When I did eventually meet Hozier, I wasn't positive I'd successfully identified him until he graciously accepted my congratulations on a great performance with Annie Lennox. At this point, the conversation ended.
There is no R. Kelly party after the after-party.
I spent longer than I should have looking for this mythological happening. No such thing is currently known to exist. In fact, one industry professional I spoke to suggested that R. Kelly is rarely at the Grammys unless he is performing.
Instead, artists and industry people alike subsist on relatively few hip after-parties. The labels host corporate events where the artists come to pay their respects before moving onto musician-hosted after-parties — this year, Pharrell and i Am OTHER's was the hot ticket. Meanwhile, brands like GQ host special events, too. Grace and I, in the service of journalism, were forced to pretend we were vice presidents from an absent musical outfit to get into one party.
The Grammys have nothing to do with musical quality; they're about what being a musician means.
Criticizing the Grammys is like going out on New Year's Eve — it happens once a year, for your whole life, long after you think you're over it. The Grammys don't represent real music; their voting system is broken; the system is not as racially sensitive as it should be. All this is true. But all this also assumes that the Grammys are sincerely meant to reward musical achievement, and the fact is they don't. They reward the choice to be a musician and the capacity of musicians to pour themselves into their art.
Presenters handed out nine awards on television this past Sunday night. There were 23 performances by 35 artists, each of whom had about three minutes to convey their whole self to an audience quick to be dissatisfied. I was blown away repeatedly, not by talent so much as immediacy. When Katy Perry performed "By the Grace of God," there was a feeling of wholeness. With minimal set, spare gestures and a forceful (if sometimes pitchy) voice, Katy Perry's performance was powerful not only because it was a tribute to the survivors of domestic abuse, but also because it immediately distinguished herself from the 34 other stars vying for attention that night. It drew attention to all that belongs to her and her alone — the fortitude and proud vulnerability on which she's made her name. 
We celebrate the image of a certain kind of rare human achievement at the Grammys more than we do musical excellence. Sam Smith wins because he's boldly sad in a way only Smith appears to be; Taylor Swift wins every time she dances with her arms. Whether through performance (in Smith and Swift's case) or genuine feeling (in Perry's case), these singers have something that most people spend their lives trying to achieve: They show themselves in apparent fullness and are welcomed for it. They communicate themselves fully in their music.
At least one flight attendant on Virgin America looks like Katy Perry.
It seems that Virgin America's schtick is to make you feel always as if you're flying to or from the Grammys. When you actually are flying to or from the Grammys, you realize that you still need to think about whether to pay $11 for Internet to the point when it is no longer worth it to pay for Internet. This is when you realize that the woman behind the drinks cart looks like Katy Perry. It's when you think about what it means to feel suddenly that so many musicians you respect from afar can so quickly come so close.