This 'Fifty Shades of Grey' Parody With Steve Buscemi Is Better Than the Real Thing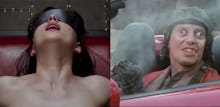 It is an undisputed fact that Steve Buscemi makes (most) everything better. Don't believe us? Just watch the recently released parody trailer for Fifty Shades of Grey, which replaces Jamie Dornan's Christian Grey with supercuts of Buscemi performances.
Complete with Buscemi's trademark nasal voice — not to mention a particularly brilliant ending — the trailer is everything one could hope for and more. It goes without saying, but it's also definitely better than the source material. 
Behold:
Produced by Boo Ya Pictures, the parody features selections of the actor's performances from Boardwalk Empire, Fargo, Billy Madison and Mr. Deeds, among others. 
This Valentine's Day, don't bother seeing the actual Fifty Shades movie — just sit back with your loved one, a bag of popcorn and Steve Buscemi.