12 Women Who Had the Perfect Response to Sexist Questions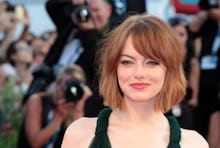 As the unofficial Queen of the Universe, Amal Clooney has the power to do what she wants — from putting war criminals behind bars (no biggie) to giving award-show pageantry the side eye it deserves.
In January, Clooney continued her reign of IDGAF-style badassery during an appearance in the European Court of Human Rights in Strasbourg, France, where she was representing Armenia. When a reporter asked the celebrated barrister not about the case but rather about what she was wearing, she had the perfect response: "I'm wearing Ede & Ravenscroft." 
You know, legal dress robes — like any other lawyer.
Her sharp comeback speaks volumes about the way women are treated by the media. The good news is that Clooney isn't alone in not taking these kind of questions seriously. More and more women are rolling their eyes at pesky reporters who overlook their accomplishments in favor of their appearance — and it's about time. Here are a few examples of ladies giving the best answers to the worst questions.
1. Emma Stone: "It's sexism."
During a 2012 interview with Teen Vogue, Stone and her on and off-screen boyfriend Andrew Garfield were asked about their Spider-Man film. After Stone responded to a question about her blond hair, Garfield said, "I don't get asked that." To which Stone added, "You get asked interesting, poignant questions because you are a boy." The reporter offered an explanation: "It's sexism," and Stone agreed: "It's sexism."
2. Laverne Cox: "I don't talk about that."
The star of Netflix's Orange Is the New Black and the upcoming CBS legal thriller Doubt is used to being on the receiving end of inane questions, but somehow always manages to keep her composure. After giving Katie Couric a lesson on how to interview a trans person in 2014, it was Wendy Williams' turn to learn how to be more respectful to her guests. Despite being peppered with a series of awful questions about being trans — the worst being the blunt "You've got breast implants?" — Cox kept her cool, and explained why such a question is neither relevant nor appropriate.
3. Mindy Kaling: "It's pretty insulting."
The actress, producer and overall amazing human has given great responses to many terrible questions over the years — such as being asked what kind of race she prefers when it comes to guys — but one of the questions she hates the most are about her confidence. In the September 2014 issue of Parade Magazine, she explained why it's she's uncomfortable with the premise that she shouldn't be confident to begin with.
4. Cate Blanchett: "Do you do that to the guys?"
In what is now arguably one of the most viral moments in award show history, Blanchett interrupted an interview to point out the ridiculousness of cameras panning up and down women's bodies as they talk about their work. "Do you do that to the guys?" she asks the cameraman. The answer, if you're wondering is a big fat "no."
5. Elizabeth Moss: Flipping off the mani-cam.
First introduced in 2012, the mani-cam was designed to reduce world-renowned actresses to their nail art. Although it had a good run, women are done pretending it has any relevance at all. Actresses like Jennifer Lawrence have used it to make pranks, but our all-star give-no-fucks mani-cam disrupter goes to Moss, who gave it the finger. 
6. Julianne Moore: "I'm not doing that."
Other women like Julianne Moore, Reese Witherspoon and Jennifer Aniston simply protested the mani-cam the old fashioned way: by refusing to use it. "No. I'm not doing that," Moore said at this year's Guild Awards. 
7. Rashida Jones: "I'm ethnic."
After receiving unsolicited compliments about her "tropical tan" at the 2015 SAG Awards, Jones retorted with: "I mean, you know, I'm ethnic." 
Mic drop.
8. Scarlett Johansson: "I get the rabbit food question."
One of the most obvious demonstrations of the contrast between the questions men and women get occurred during the Avengers' U.K. premiere press conference. Johansson had trouble hiding her consternation after being asked about her ability to fit into a form-fitting suit in her role as the Black Widow, while her cast-mate Robert Downey Jr., who also had to wear a body suit, was asked questions about his acting process, such as, "How did you approach this role, bearing in mind that kind of maturity as a human being when it comes to the Tony Stark character?"
Johansson, on the other hand, was asked, "To get into shape for Black Widow did you have anything special to do in terms of the diet, like did you have to eat any specific food, or that sort of thing?" 
She didn't let the moment slide.
9. Hillary Clinton: "Would you ever ask a man that question?"
Clinton is a pro at responding succinctly to mundane fashion questions. After discussing some of the barriers young women face because people are more critical of their appearance, she was asked by an out-of-touch moderator about who her "favorite designers" were. Her answer?
10. Jennifer Garner: "Isn't it time to kinda change that conversation?"
Although love birds Garner and Ben Affleck have the same job and went to the same press junket, they were asked different questions. While Garner was asked to explain how she would handle kids and a career, Affleck was mostly asked his thoughts about his Gone Girl co-star's boobs. During a speech at a Women in Hollywood event, she explained just how poignant the double standard in media can be.
11. Zooey Deschanel: "In what world is that ever an OK question to ask anybody?"
In a video created by Upworthy, the New Girl star displays the appropriate amount of dismay upon reflecting on how ridiculous it is for reporters to focus on women's bodies rather than what they've achieved at award shows.
12. Anne Hathaway: "Are you trying to lose weight?"
The Oscar-winning actress is no stranger to idiotic questions from reporters. After being pushed repeatedly to divulge her eating and exercise habits while filming The Dark Knight Rises, she threw the awkward spotlight back on the Extra's Jerry Penacoli and asked him why he showed so much interest in her diet.
Like most celebrities in this list, Hathaway is no stranger to sexist questions. When promoting Les Misérables on the Today Show, the first question Matt Lauer asked concerned a photo of her vagina. She handled the question flawlessly by pivoting back to the film she was there to talk about: "I'm sorry that we live in a culture that commodifies sexuality among unwilling participants, which brings me back to Les Mis."
Female celebrities have always received sexist curve-balls, but it looks like the tide is changing and that they are finally giving those inane questions the boycott they deserve.