Jon Stewart's Most Legendary Moment Was on CNN, Not 'The Daily Show'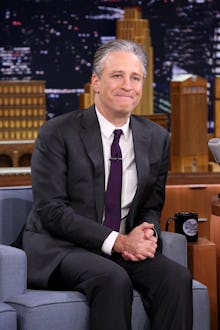 Legendary Daily Show host Jon Stewart announced on Tuesday that after a staggering 16-year run on Comedy Central, he will be retiring later this year to pursue other projects.
From a sobering monologue after the Sept. 11 terrorist attacks to his astonishingly funny Glenn Beck impression, Stewart leaves us with more than a decade and a half of some of the smartest, funniest pseudo-news coverage ever made.
 But while he and soon-to-be-fellow alum Stephen Colbert nearly single-handedly turned Comedy Central into a late night juggernaut, Stewart's best moment wasn't behind the desk at The Daily Show. It was his amazing appearance on a 2004 episode of Tucker Carlson and Paul Begala's Crossfire, a political debate show notorious for regularly sinking into nonsensical screaming matches. 
Stewart joined the co-hosts for what they thought would be a softball interview with an easygoing comedian. Instead, Stewart thoroughly humiliated the hosts on their own show, telling them, "You're partisan — what do you call it — hacks" and begging them to "stop hurting America."
"Here's what I wanted to tell you guys," he said. "Stop."
In between the much-deserved verbal shellacking, Stewart even found time to mock Carlson's bow tie.
To say Stewart's diatribe hit home would be an understatement. The next year, CNN canceled Crossfire, fired Carlson and even had then-network president Jonathan Klein issue a statement saying "I agree wholeheartedly with Jon Stewart's overall premise." In just a little more than 10 minutes, Stewart became the man that killed Crossfire. (At least until its awful 2013 revival, which fortunately was put back to sleep one year later.)
Americans will remember Stewart as a brilliant comedian and a fantastic fake-news host, but his devastating CNN appearance demonstrated his gifts as a media critic and political commentator. Stewart out-Crossfire'd Crossfire. Wherever he lands next, he'll do just as well by us as he has for the past 16 years.