Miley's NSFW 'Porn' Video Actually Makes a Point. Here's Why Everyone Should Watch It.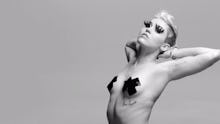 Miley Cyrus can still do what she wants to.
On Monday, the New York Post reported that Cyrus' short film "Tongue Tied," which portrays the nearly nude singer binding herself in latex rope, would be screened at the PornHub-sponsored NYC Porn Film Festival on Feb. 27. 
The announcement caused a media frenzy, followed shortly by an update: Cyrus' representatives and production company Cadence Films pulled the erotic short (which is purportedly twice as long as the clip leaked last year, below) from the festival, stating they had been misled by event organizers who had called the porn fest a "shorts screening." Simon Leahy, the festival's organizer, confirmed the pull to Mic on Tuesday.
While Cyrus might be distancing herself from the label, we shouldn't write off the bondage-heavy film as just another "being Miley" stunt, one in a series of tongue-wagging, twerk-happy provocations. Cyrus' bold representation of kink imagery and sexuality is a legitimate, thought-provoking facet of what she wants her artistry to include. And sex-positive expressions like hers have the power to change the conversation on sex.
Embracing sexual expression as art: "Tongue Tied," directed by artist Quentin Jones, was originally created as an interlude during Cyrus' Bangerz tour shows last year. The film depicts Cyrus playing with popular kink symbols: her hands bound by latex, her nipples covered in tape and her nude form swinging from a bar. As Adult magazine's Sarah Nicole Prickett noted in Nowness, "She stretches the definition of kink, making it pop. [...] Jones goes in on popular symbols of sex: the fishnets, the beauty mark made darker like Marilyn's, the black collar fit for a Bunny." 
This isn't the first time a pop star has borrowed from the kink and BDSM community to establish themselves in the erotic art world. Lisa Vandever, the co-founder of kinky film festival Cinekink, tells Mic, "We're very used to pop entities positioning themselves within kink iconography, this really is nothing different." Icons like Madonna and Rihanna have pushed boundaries and shirked norms surrounding female sexuality with "Justify My Love" and "S&M," respectively.
While it's easy to write off such eyebrow-raising works as mere provocations, they are worth taking seriously. Madonna's 1992 book Sex, which included photos of softcore pornography and sadomasochism, was initially met with sharp criticism but eventually topped the New York Times best-seller list. Accompanied by her fifth studio album Erotica, the book now defines an entire phase of Madonna's work and established her as a feminist, sex-positive voice in pop culture — one who is still posing for nude shoots at the age of 56.
Cyrus is no less proud of her own sexual expression. Her representatives still claim that, despite the NYC Porn Film Festival pull, "Miley was proud to make a film with acclaimed filmmaker Quentin Jones," according to the New York Post. 
Artistic portrayals of sex matter for the rest of us: Having artists, particularly pop stars, take sexual expression seriously in their work can have a real impact. "It somehow makes the concept more acceptable to the outside world, just a dabbling into the kink," Vandever notes of Madonna's and Cyrus' artistic pioneering.
Making kink and open artistic expressions of sexuality more palatable might be just what the outside world needs. In the aftermath of the porn fest announcement, Cyrus received heavy, slut-shaming criticism from fans and media who found her NSFW art objectionable, even exploitative. 
The comments echoed those by Annie Lennox, who spoke about being "disturbed and dismayed" by "pornographic" artists such as Cyrus and Rihanna who "are peddling highly styled pornography with musical accompaniment," and those by Sinead O'Connor, who warned Cyrus in an open letter, "Nothing but harm will come in the long run, from allowing yourself to be exploited." 
But porn industry insiders and artists alike see Cyrus' film for what she likely intended. "It's a pop take on S&M," NYC Porn Film Festival founder Simon Leahy told the New York Post. "She's starting to become more of a contemporary artist." Feminist porn star Annie Sprinkle took to Twitter calling the work and its initial inclusion in the the festival "wonderful." 
Cyrus' film, while easy to write off as another sexualized sideshow, can play a part in normalizing human sexuality beyond the norms we typically depicted in mainstream media — as so many pop cultural works have ultimately done. (Madonna's Sex, after all, sold 150,000 copies in the first day.) Eager as everyone is to label Cyrus a producer of XXX films, her short film is a part of her expanding artistic work as whole, one that's recontextualizing the pop icon as a sex-positive, expressive artist. 
While it may not be porn, it's still worth watching.