Three Young Muslims Gunned Down in North Carolina Family Home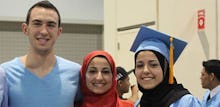 Updated: Feb. 11, 2014, 10:30 am
A 46-year-old man is being charged with murder after allegedly shooting and killing three Muslim students Tuesday near the University of North Carolina at Chapel Hill campus. Local authorities said the three victims — Deah Shaddy Barakat, 23, his wife Yusor Abu-Salha, 21, and her sister, Razan Abu-Salha, 19 — were all pronounced dead on the scene after being shot in the head.
According to a Chapel Hill police statement on the preliminary investigation, the shooting was initially sparked by an on-going parking lot dispute, the Associated Press reports.
According to school officials, Barakat was a dental student at UNC. He and his wife were newlyweds. 
Barakat was involved in charity work and set up a successful YouCaring.com page to raise funds for Syrian refugees, especially dental care. His sister-in-law had recently enrolled at North Carolina State University to study architecture.
The shooter, Craig Stephen Hicks, reportedly turned himself into the Chatham County Sheriff's Office in Pittsboro. 
Although police haven't yet said what compelled Hicks to carry out the attacks, given the victims' religion and race, as well as anti-religious posts Hicks made on social media, many are already speculating that the shooting was religiously motivated, prompting the creation of the hashtag #MuslimLivesMatter.
Police are still investigating the case. Hicks is scheduled to make his first court appearance Wednesday morning, at which point more details will likely emerge.