3 Years After Her Death, Whitney Houston's Music Still Inspires Women Everywhere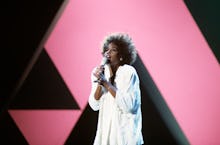 Legendary songstress Whitney Houston died three years ago Wednesday. Her final years were tumultuous, but through it all, she kept her head held high. An inspiration for women everywhere, Houston advocated for strength, wisdom and love throughout her career.  
Houston began singing when she was very young. She recorded six incredible studio albums and contributed to four movie soundtracks. Though her personal hardships — alcohol and drug abuse, domestic violence and canceled shows — often upstaged her professional talents, Houston is still one of the most accomplished musicians of all time. Those who loved her remember her beautiful voice most of all, and the female strength she advocated with it.  
1. "I decided long ago never to walk in anyone's shadows / If I fail, if I succeed / At least I'll live as I believe / No matter what they take from me / They can't take away my dignity"
"Greatest Love of All" — Whitney Houston
Houston was born into a musical family: Her mother Cissy Houston is a famous gospel singer and friend to Aretha Franklin. Whitney's cousin is Dionne Warwick, a great talent in her own right. Though she was born into music royalty, Whitney certainly never walked in anyone's shadow.
2. "Everybody's searching for a hero / People need someone to look up to / I never found anyone who fulfilled my needs / A lonely place to be / And so I learned to depend on me"
"Greatest Love of All" — Whitney Houston
"I was raised to be self-sustaining. I wasn't really raised to be a housewife-cook," Houston told USA Today in 1992. "I just knew that whatever I wanted to do with my life, marriage wasn't going to be a part of that for a long time."
3. "I found the greatest love of all / Inside of me / The greatest love of all / Is easy to achieve / Learning to love yourself / It is the greatest love of all"
"Greatest Love of All" — Whitney Houston
In a 1993 interview with Rolling Stone, Houston said, "When I first started out I juiced my mother. I was like 'Ma, Ma, Ma, Ma, Ma, what do I do? What do I say? How do I handle it?' Now, I know. You learn, you grow up and you become your own woman." 
4. "Even though you feel abandoned and alone / Child, you ain't the first to experience the hurt / So don't panic when you hit the danger zone"
"Love Will Save the Day" — Whitney
"In grammar school, some of the girls had problems with me. My face was too light. My hair was too long. It was the black-consciousness period, and I felt really bad," Houston told Time in 1987. "I finally faced the fact that it isn't a crime not having friends. Being alone means you have fewer problems. When I decided to be a singer, my mother warned me I'd be alone a lot. Basically we all are. Loneliness comes with life."
5. "I hate to sound aggressive / But I'm tired of waiting for your move / Cut the formalities / 'Cause you've got a few things to prove"
"Love Is a Contact Sport" — Whitney
6. "My name is not Susan / So watch what you say  / If you still need her / Then be on your way  / Don't wanna hear about Susan / She's got nothin' on me / So show some respect for the love you receive / My name is not Susan
"My Name Is Not Susan" — I'm Your Baby Tonight
"Women have a clear choice. That's the way I was raised," she told Rolling Stone in 1993. "My mother always said to me, 'If you want to be respected, then act with respect.'"
7. "If you believe that true love is only made in bed / Lord have mercy on you, chivalry is dead"
"Anymore" — I'm Your Baby Tonight
On growing up as the only girl in a family with two brothers, Houston told Rolling Stone, "I got to hear how men really think about women, which left me with not much to be disillusioned about. Guys would walk up to me, and I'd go [folds her arms and frowns], 'And what do you have to say?'' I wasn't goin' for a lot of bullshit." 
8. "I'm every woman / It's all in me  / Anything you want done baby / I do it naturally"
"I'm Every Woman" — The Bodyguard: Original Soundtrack
In 1987, Houston told Time, "I like being a woman, even in a man's world. After all, men can't wear dresses, but we can wear the pants."
9. "You've got a problem with the way that I am / They say I'm trouble and I don't give a damn"
"The Queen of the Night" — The Bodyguard: Original Soundtrack
"My business is sex, drugs, rock 'n' roll," she told Diane Sawyer in 2002. "I mean, my friends, we have a good time. But as you get older, you get wiser. You know? You stop a lot of the kid stuff. I had no time to grow up, had no time to party. I didn't even date in my 20s. It was rough. I think I kind of reverted back as I got older. And I said, 'Well, I'm just gonna party.' It was kind of a rebel in me, you know?" 
10. "Count on me through thick and thin / A friendship that will never end / When you are weak I will be strong / Helping you to carry on"
"Count On Me" — Waiting to Exhale Soundtrack
Houston and CeCe Winans sang this song, about female friendships, for the movie Houston starred in. "Whitney was not just a friend but a sister, and I am going to miss her voice and her humor, but mostly her friendship," Winans told Essence shortly after Houston's death. 
11. "Did you really think that / I would really take you back / Let you back in my heart one more time"
"I Learned From the Best" — My Love Is Your Love
In a 2009 interview, Oprah asked Houston about leaving Bobby Brown. Houston said, "I wasn't going to be living with a man who decided that he didn't want to live the same way I did or thought about marriage or me the same way. Being loyal. Being dedicated. Being true. Being faithful. All those things. I wasn't going to live with someone like that. I wasn't."
12. "I won't be hanging around, baby / I decline to take the pain / And I resign the masquerade / And I bow out"
"I Bow Out" — My Love Is Your Love
In the same interview, Houston told Oprah, "Don't forget, there were some times we'd laugh our tails off. We had a ball. Sometimes you do have a good time. But when it gets to the point where you're sitting in your home and you're just trying to cover what you don't want people to know. It's painful. And then you want more just so that you don't let anybody see you cry or [let] anybody to see we're not happy."
13. "When you're left standing on that stage all alone / Maybe you will realize / You should have learned to treat me right / And when this final act is finally through / Maybe you'll wish you'd been / The kind of man you should have been"
"I Bow Out" — My Love Is Your Love
Oprah asked Houston, "When did you know the marriage wasn't right?" Houston replied, "I was like, 'You don't smell right. You don't look right. Something's going on.' And then all this other stuff started coming out about him being with this one or that one or being too promiscuous, dragging dirt into my home."
14. "Reaching for my dreams / And you're so quick to say what I can't do / You criticize my action / But I don't see you standing in my shoes"
"Tell Me No" — Just Whitney
When Redbook asked Houston about the media in 1996, she said, "They're devils to me, and they're out to eat my flesh."
15. "And tell me no / And I'll show you I can / And tell me no / I sink my feet right in / Tell me no / Just tell me that I can't win / Come on / I'm sure I'll prove you wrong / Go on and go / Tell me no"
"Tell Me No" — Just Whitney
In her interview with Oprah, Houston said, "I wasn't happy with the marriage. I was losing me by trying to be pleasing. I was determined to prove the world wrong, so determined. And after a while, you start to lose what the real concept is of the love. And you want to make a statement." 
16. "I'm wiser now / I'm not the foolish girl you used to know / So long ago / I'm stronger now / I've learned from my mistakes which way to go / And I should know / I put myself aside to do it your way / But now I need to do it all alone"
"On My Own" — Just Whitney
"I had never really ever been in love with anybody like I was in love with Bobby," Houston told Sawyer in 2002. "I went through all the changes that any girl would go through, you know? I did. I did. But I'm older and I'm wiser now. I'm wiser about it. He can go away and I'm fine."
17. "And I am not afraid to try it on my own / I don't care if I'm right or wrong / I'll live my life the way I feel / No matter what I'm gonna keep it real you know / Time for me to do it"
"On My Own" — Just Whitney
"I just knew I had to get to the point where I had to make a choice about my marriage," Houston told Oprah. "I just remember praying, 'If you give me one day of strength, I will go out that door and I will not look back.' And that one day came. And I left. ... I never came back."  
18. "Adding up my life, it totals all my dreams / I'm counting all my blessings / And the gifts I have received / Still there's always someone / Something to overcome / Took all my life to understand / That I am what I am, who I am / Unashamed"
"Unashamed" — Just Whitney
"I had a miscarriage during the filming of 'The Bodyguard,'" Houston revealed to Barbara Walters in 1993. "It was very painful, emotionally and physically. ... I was back on the set the next day. And it's over. But I had Bobbi Kristina one year later, and I am blessed."
19. "Survived my darkest hour, my faith kept me alive / I picked myself back up, hold my head up high / I was not built to break / I didn't know my own strength"
"I Didn't Know My Own Strength" — I Look to You
Maybe she didn't, but we can.