Kansas' Governor Just Quietly Erased Protections for LGBT Workers With the Stroke of a Pen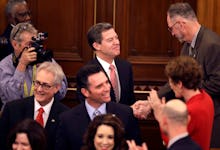 Republican Kansas Gov. Sam Brownback signed an executive order Tuesday wiping out protections for LGBT workers, effectively making it legal for the state to harass, fire or deny positions to individuals on the basis of their sexual orientation or gender identity.
Brownback, who was reelected in 2014, rescinded a 2007 executive order by then-Gov. Kathleen Sebelius (D) because "the expansion of 'protected classes' should be done by the legislature and not through unilateral action," he said in a statement.
Equal rights activists said Brownback's actions revive a serious threat to the civil rights of LGBT employees in Kansas.
"This action by the governor is an outrage," Equality Kansas Executive Director Thomas Witt said in a statement Tuesday night. "Gay, lesbian and transgender state employees across Kansas have trusted they would be safe from discrimination and harassment in their workplace, but Sam Brownback has, by erasing their job protections, declared 'open season' on every one of them."
"This has been a personal project of his for years," Witt told Mic on Wednesday. "[Brownback] has nothing but disdain for LGBT Americans."
Not just a Kansas problem: The new order in Kansas removes protections for workers employed by the state government. According to the American Civil Liberties Union, only 18 states and Washington, D.C., now have employment nondiscrimination law that covers sexual orientation and gender identity. Three more — New York, Wisconsin and New Hampshire — offer protections for orientation but not identity.
As Mic's Marcie Bianco noted last November 2014, a Center for American Progress report found that more half of the national labor force is currently susceptible to workplace discrimination:
Why now, Governor? Speaking to Mic, Brownback's communications director Eileen Hawley criticized former Gov. Sebelius for signing the initial executive order, saying a governor should not "rule by executive fiat. ... That's the sort of thing we see President [Barack] Obama do." She insisted that the timing of the decision was entirely coincidental and that, despite having already spent more than four years in office, this was to her knowledge the first time Brownback and his staff had reviewed Sebelius' 2007 order.
The governor's political opponents say his decision to take this action now is more cynical. One Democrat, State Rep. John Wilson, told the Kansas City Star that Brownback is simply trying to "divert attention from his irresponsible management of the state and focus on divisive and discriminatory social issues."
"Brownback is playing to his base and attempting to distract from the serious budget crisis facing our state," top State House Democrat Tom Burroughs of Kansas City, Kan., told Mic in a statement. "The bottom line is this: All Kansans deserve to be treated fairly and with respect and no Kansan should be denied equal protection under the law."
After drastically cutting taxes in his first term, Brownback now presides over a $280 billion state budget shortfall. To help balance the books, the governor has announced plans to cut pensions and slash another $45 million in public school funding. In December, the New York Times reported that a state court panel had declared Kansas public schools "unconstitutionally underfunded." Brownback has stood by his economic plan, saying there has been no discussion of raising taxes to their previous levels.
What's next? Last summer, Obama signed two executive orders to protect LGBT federal employees from discrimination in government jobs and federally contracted private firms. But on the state level, Republicans are pushing forward with plans to deny or strip those rights.
Last year, a lawmaker in Texas introduced a bill to enshrine private employers' "religious freedoms," protecting what critics call a "right to discriminate." Though most similar state bills to erode LGBT workers' rights have been unsuccessful, the status quo is bad enough. Currently, 29 states allow businesses to fire employees because of their sexuality.
Brownback's executive order takes the fight a step further. This is no sin of omission, but the product of the governor's years-long campaign to deny rights and respect to LGBT Americans.
"The question," Witt says, "is not why he has started, but where is he going to stop."