One Heartbreaking Tweet Sent by a Chapel Hill Victim Matters Now More Than Ever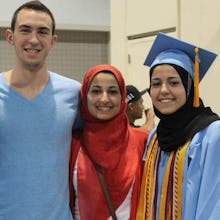 After news spread online of the execution-style shooting deaths of three Muslim students near the University of North Carolina at Chapel Hill, Twitter was flooded with messages of love, support and acceptance of Muslim Americans with the hashtag #MuslimLivesMatter.
But the most important message of religious tolerance comes from an unexpected source: the Twitter feed of Deah Barakat, one of the victims.
In a heart-rending tweet posted two weeks ago, Barakat denounced religious extremism in the Middle East:
It's a heartbreaking message of peace. The senseless deaths of Barakat, 23, his wife Yusor Abu-Salha, 21, and her sister, Razan Abu-Salha, 19, are made all the more cruel when put in the context of Barakat's beliefs.
Although the motivation of the alleged shooter, Craig Stephen Hicks, has not been established, screenshots of anti-religious statements posted on a Facebook page allegedly belonging to Hicks have led many to believe that the violence was religiously motivated. According to a statement by Chapel Hill police, the shooting may have initially been sparked by a dispute involving the community's parking lot, according to the Associated Press.
Whatever the unjustifiable motive was for the deadly shooting, Barakat's tweet is a powerful symbol of the importance of peaceful dialogue in ending conflict, religious or otherwise.