What We Know About the 3 Victims of the Chapel Hill Shooting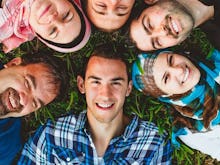 On Tuesday night, three young people — Deah Shaddy Barakat, Yusor Mohammad Abu-Salha and Razan Mohammad Abu-Salha — were shot dead near the University of North Carolina's campus in Chapel Hill. 
Barakat and Yusor were newlyweds; Razan was Yusor's sister. They were killed at a quiet apartment complex around 5 p.m. on Tuesday, and while details of the shooting are still scarce, police confirmed that 46-year-old Craig Stephen Hicks had been charged with the murders.
The motivation for the killings is still unclear. All three victims were Muslim, and the father of the two women told the Charlotte Observer that it was a hate crime, though police have yet to confirm that. A Facebook page set up in memory of the three young victims noted that it was "intended to facilitate communication and will hopefully carry on their legacy of service, great character and joy for life." 
As the country processes the heartbreaking events that unfolded on Tuesday night, there are certain realities that begin to stick out more than others. Barakat, Yusor and Razan were young people with plans, hopes and worries. They participated in community work, they were studying things they loved, they were planning for the future. 
Much of the focus right now is on the evil of the alleged perpetrator and whether the killings were motivated by hatred. While these discussions have a place in the ongoing dialogue about religion in America, and have prompted passionate responses, the victims themselves should not be forgotten. 
We all want answers. Remembering the lives of these three victims may not give us any, but it does remind us that acts of violence aren't just indicators of larger social problems, but human stories of tragedy and loss, a fact that may soon get lost within the larger national conversation.
Deah Shaddy Barakat, 23
Barakat was a dental student at the University of North Carolina, and he started a campaign last year to send dental supplies to victims of the Syrian civil war. The YouCaring effort has raised more than $70,000 to date.
"In Syria, brave dentists and assistants risk their lives to provide their services, despite deliberate attacks on their clinics," the description for the fundraiser reads. "These incredible individuals volunteer their time, but lack basic necessities to continue their important work."
Barakat also devoted time to charities closer to home. According to his Facebook page, he spent time working with the homeless populations in Raleigh and Durham, both in North Carolina.
BuzzFeed reports that the 23-year-old was also a regular Twitter user who often posted about his love of basketball and football. But he also emphasized his concern for issues pertaining to other Muslims and Muslims in America; he recently shared a video clip of Reza Aslan discussing the media's bigotry when it comes to Islam.
Yusor Abu-Salha, 21
The Independent reports that Yusor had planned to begin her dental studies at UNC-Chapel Hill this coming fall. The outlet also cited UNC officials as saying that she and Barakat were married in December — less than two months ago.
Friends described the two to BuzzFeed as a "beautiful couple," and noted that they had gotten engaged in February 2013.
Yusor studied biology at North Carolina State University and graduated last year.
Razan Abu-Salha, 19
Razan was a student at North Carolina State University, where she studied architecture and environmental design. The New York Times notes that many have praised her artistic abilities; she won an award from her school "for capturing 3-D abstract model making with time-lapse video."
Her Twitter bio reads, "I like buildings and other stuff," and she posted frequently on a personal Tumblr account. Her last tweet, from Feb. 9, included a Vine of her and a friend dancing in a car.
A photo of Razan posted by Barakat was captioned, "The best third wheel ever," according to the Independent.