This Ballet Routine Set to Hozier's "Take Me to Church" Will Blow You Away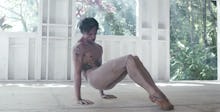 Almost a year and half since its release, Irish folk singer Hozier's "Take Me to Church" continues its brilliant ascent to the top of the music world. Most recently, the singer's unlikely hit received a complete aesthetic reimagining in a new video starring ballet legend Sergei Polunin and directed by pop photographer David LaChapelle. The cinematography is stunning, and the dancing is expressive and raw. It brings all of the song's deep emotion right to the surface — and it's almost more powerful than beautiful original video.
Wearing only nude-colored tights, Polunin writhes and leaps through the song's gripping catharsis. He dances like a man possessed, seemingly tortured by the "sins" Hozier sings about so powerfully in the song's hook.
Polunin is a kindred spirit to Hozier. He has long been one of ballet's most mythic figures. And his dancing here should only deepen that fascination. In 2012, he quit the prestigious British Royal Ballet, where he had been the company's youngest principal dancer. His rebellion — which he expressed by covering his body with the tattoos visible in the video, skipping classes and joking about experimenting with drugs — baffled the dance community. But he needed to test his boundaries. He told the BBC, "In a way, I did feel like the artist in me was dying a little bit. I wasn't giving as much of myself and creativity into it, as I should, as I have in me."
He now dances with the Stanislasky Ballet company in Russia, which he claims has helped him grow into an "artist." He also now enjoys more freedom to experiment and participate in projects such as LaChappelle's reimagining of Hozier's powerful "Take Me to Church" video.
Polunin's dancing to Hozier's defiant and iconoclastic "Take Me to Church" is highly appropriate. Hozier's critique of church dogma fits Polunin's own rebellion against traditional ballet. This may be one of the reasons his movements harmonize with the music so powerfully. Though the song was passed over at the Grammys last weekend, its influence only grows. The fact that Hozier's song can interpreted and reimagined visually in so many ways also shows how masterful a piece of music it truly is.
Correction: Feb. 17, 2015