13 Empowering Illustrations to Remind Everyone of the Women the Media Always Ignores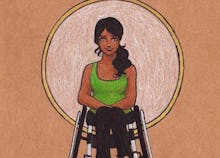 "We want to see ourselves," Viola Davis said in her acceptance speech for best actress in a drama series at this year's Screen Actors Guild Awards. "We want to be inspired by that. I sometimes want the fantasy, but more often than not, I want reality." 
This sentiment points to a lack of authentic media representation that not only frustrates Davis, but countless women — many of whom are intrepidly working to diversify the images of womanhood that society presents them.
Carol Rossetti is an artist doing just that. In a project she simply calls "Women," Rosetti has amassed a collection of illustrations that highlight female bodies and experiences that are often marginalized or ignored by the mainstream media. Last year, images from Rosetti's collection took the Web by storm. Now the artist is back with even more colorful illustrations that disrupt the "world's attempts to control women's bodies, behavior and identities."
Rossetti told Mic, "When we look at magazine covers we only see young, white, thin, sexy women, but that's not all we can be. We're also black, Latin, Asian, fat, disabled, mentally ill, old, shy, socially awkward, Muslims, lesbians, asexual, etc. People need to be seen."
In addition to educating others through her art, Rossetti, who is based in Brazil, notes that she too has been enlightened over the course of the project. "As the project grew, people from all around the world started sending me suggestions, telling me about their own experiences and challenges," she said. "I got to know so much more than what my town could show me. I got to know about things I had never imagined, and I learned so much from people. It's amazing how much we grow when we listen to different people."
While the series does exclusively feature women, Rossetti notes that "everybody is welcome to identify with the illustrations" and even hopes men, who are not usually encouraged to identify with female characters, will do so. "I remember when I was a kid and movies with women as main characters were seen as 'movies for girls,' and the ones with a main male character were for everyone," she said. "I also like to deconstruct this idea."
The medium of her work, Rossetti adds, may be as important as their messages. "When a girl tells me that some illustration made her day so much better, or when a guy tells me that it was through my work that he noticed he had been disrespectful to some women without realizing (and wouldn't do it anymore), I see that this kind or direct non-aggressive language is important as well," she told Mic. 
Rossetti said she will continue to work on this project and even recently announced that "Women" will be featured in an upcoming book. While she's excited to have touched so many people with her project, she acknowledges that "these battles are not finished ... so we keep fighting."
All images courtesy Carol Rossetti and used with permission.