These Filmmakers Are Wildly Talented — But You Won't See Them Winning Oscars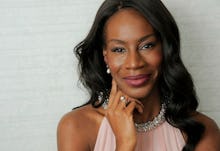 When presenter Chris Pine finished reading the names of nominees for this year's best director Oscar category without mentioning Ava DuVernay, there was, at first, confusion. How could the critically acclaimed director of Selma — a film that has received near-universal praise — possibly fail to receive a nomination?
Then the anger set in. Countless media outlets, industry professionals and fans alike made clear their shock and disappointment; while Selma was indeed nominated for best picture, the lack of a best director nod for DuVernay was a clear snub to the woman at the film's helm. Many noted that, beyond insulting DuVernay, this represented a missed opportunity to correct the film industry's longstanding failure to acknowledge female filmmakers of color. They had a point.
The film industry has an abysmal track record when it comes to representing and employing women of color. A study by the Women's Media Center found that only two of the 565 directors of the 500 top-grossing films between 2007 and 2012 were black women. This dearth of women of color behind the scenes undoubtedly shapes the images viewers consume too: The same study found that when films had a black director, 52.6% of speaking characters were black, as opposed to only 9.9% among other films.
To speak in a language that often resonates with Hollywood, the film industry is doing itself a serious financial disservice by overlooking this talent pool. Thirty-six percent of U.S. moviegoers are people of color, and, as Mic's Zak Cheney-Rice points out, "Movies with more racially diverse casts were far more profitable than those with 'majority white' casts in 2011 — 2.34 times more, to be exact."
But there's hope: Just because the Oscars often fail to give female filmmakers of color the recognition they deserve doesn't mean these artists don't exist. We can champion their work by celebrating it even when mainstream award shows do not. To start, here are six female filmmakers of color that everyone should know.
Amma Asante: Belle, A Way of Life
British director and screenwriter Asante, whose parents are Ghanian immigrants, was a child actress before founding her own production company, Tantrum Films. Her directorial debut, A Way of Life, was critically acclaimed, and Asante went on to win awards at the London Film Festival, BAFTAs and beyond. Asante's most recent film, Belle, has been hailed as a "vital film" by the Telegraph and earned Asante the BAFTA honor of a "Brit to Watch." Her inspiration for making the film, she told Women and Hollywood, was "to show a woman of color being loved. We don't see it that often."
Gina Prince-Bythewood: Love & Basketball, Beyond the Lights
Adopted by a white father and mother of El Salvadorian and German descent, Prince-Bythewood grew up in a middle-class, largely white community in California and attended UCLA's film school. Prince-Bythewood wrote the beloved film Love & Basketball, for which she won an Independent Spirit Award for Best First Screenplay. She directed 2008's The Secret Life of Bees, for which she won a NAACP Image Award for Outstanding Directing in a Motion Picture. Most recently, she directed Beyond the Lights. 
Prince-Bythewood said in a recent acceptance speech for an award at the Athena Film Festival that she hasn't felt discriminated against as a black female director but said, "What is discriminated against are my choices, which are to focus on women and especially women of color in lead roles, and it's a tougher fight."
Mira Nair: Mississippi Masala, Monsoon Wedding, The Namesake
Indian actress and filmmaker Nair was born and raised in the Indian state of Odisha. In 1988 she released the acclaimed Salaam Bombay! which earned multiple award nominations, including best foreign language film at the Oscars, and wins. She later released the widely beloved films Monsoon Wedding in 2001 and The Namesake in 2006. Nair's upcoming project, however, could potentially be her best yet: Lupita Nyong'o will star in Nair's adaptation of Queen of Katwe.
Karyn Kusama: Girlfight, Aeon Flux, Jennifer's Body
Kusama wrote her breakthrough film, Girlfight, at 27, and has been dedicated to depicting strong women on screen ever since, going on to direct the films Aeon Flux, as well as Jennifer's Body. "There are not enough difficult and complex women on screen," she told BOMB Magazine in 2000. It's a void she hopes to fill with her work, and a mission she's employing across genres like sci-fi and horror, which often want for substantial female roles. According to IMDB, she is currently working on a "horror anthology with a gender twist" entitled XX, in which female directors and female stars were given "free creative reign."
Kasi Lemmons: Eve's Bayou, Talk to Me 
An accomplished actress, Lemmons directed her first feature film, 1997's Eve's Bayou, which focuses on the complex dynamics of an African-American family. She has continued to subvert common narratives in her subsequent films, most notably in the widely praised Talk to Me in 2007. She told Women and Hollywood in 2013 that it's "important that we have female directors making these kinds of films that are for wide audiences," to prove they deserve to be as active in the field as their male counterparts. Lemmons leads by example, and her next project, an adaptation of Zadie Smith's novel On Beauty, promises to continue this valuable work.
Dee Rees: Pariah
A mentee of Spike Lee, Rees is best known for her film Pariah, which starred first-generation Nigerian immigrant Adepero Oduye as a young lesbian exploring her identity in New York City. "I just want to tell stories that are meaningful and have inspiration to them; people can watch it and take away something or maybe they'll just think about themselves differently, or thing about the world differently," she told Interview Magazine. "I just want to create characters that live on."