Netflix Released 10 Episodes of 'House of Cards' Two Weeks Early — And Then Took Them Back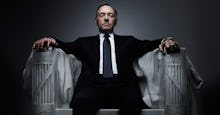 Frank Underwood is not going to be pleased.
In an apparent glitch, the first 10 episodes of the highly anticipated third season of Netflix's hit political thriller House of Cards were released on the site's streaming video platform, nearly two weeks ahead of its scheduled launch date of Feb. 27.
The Internet went on red alert:
But as President Underwood might say, "It only takes 10 seconds to crush a man's ambitions." The site managed to un-publish the season, but not before thousands of people (*raises hand guiltily*) queued up as many episodes as they could muster.
Before the launch of the second season, Netflix famously made critics who had been provided with advance copies of the show sign a near-blood oath that they would not divulge major plot points, particularly any that featured the untimely demise of a major character (link for the spoiler-iest GIF ever): "I understand and agree that any breach of these conditions will cause irreparable harm for which recovery of money damages alone would be inadequate." This undercuts arguments that the streaming platform, which has made a $1.5 billion investment in the quality of its streaming and in acquiring the rights to more content, might have leaked the episodes early on purpose.
According to the Hill, Netflix sent an e-mail blaming the early release on a "technical glitch": "Due to a technical glitch some Frank Underwood fans got a sneak peek. He'll be back on Netflix on Feb. 27."
While the episodes were up, fans of the series didn't take any chances while the cat (or strangled dog) was out of the bag: