The Next Adele Is Finally Here — and She's Spellbinding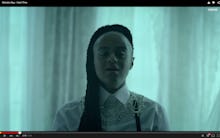 Sweden is taking over pop music, and now it has its sights set on soul. Seinabo Sey (pronounced Say-na-bo See) is a 24-year-old, Swedish/West African, soul-pop songwriter who debuted in front of American audiences a couple weeks ago on Conan.
Though she's relatively unknown in the mainstream, Sey is signed to major label Virgin, and she worked with Magnus Lidehall, who has produced Katy Perry and Sky Ferreira, on her single "Younger." The single appeared on her debut EP, For Madeleine, which Sey released in October 2014 to critical acclaim. 
The critics aren't wrong: Sey's voice is incredible, and her range practically defies the laws of physics. Like Adele, she's a low alto with the ability to sing falsetto like an angel. She also writes her own songs. She's so big in her home country that she's featured on a stamp there. She has everything you need to be a star, and she's about to make it big in America.
Who is Sey? The singer grew up between Halmstad in Sweden, where her mother lives, and Gambia in West Africa, where her father lives. Her father, Maudo Sey, was a well-known West African musician and a member of Ifang Bondi, one of the first bands to combine pop and African roots music. While he didn't pass on any musical lessons to his daughter "per se," Sey told the Guardian, "I was in that musical environment the whole time." 
When she turned 15, Sey set out on her own to pursue a singing career in Stockholm but admits she was shy and resisted the idea of performing for a long time. It wasn't until two years after moving to Stockholm that Sey was comfortable enough to perform in front of an audience. 
"Performing didn't feel comfortable until I was about 17," she told the Guardian. "I loved to sing, but I always said I would never perform because I was too scared."
Luckily for us, Sey conquered her stage fright. After two years of working with R&B and hip-hop producers in Sweden, Sey contacted Lidehall with the expectation that she wouldn't hear back. But she did, and the two released "Younger" and "Hard Time" in 2013, when Sey was 23. Of the process, she told the Fader, "When the time comes to write a song, if I get a beat or something, I look everything through and then start to decorate from that kind of abstract mind-map." 
Sey's first LP is due out before long, and she should see a surge in popularity stateside. Whereas Adele's lyrics are personally reflexive, Sey waxes poetic about the philosophical implications of heartbreak, as on "Hard Time."
But of course the most incredible thing about Sey is her voice. It shakes with an otherworldly force — at once overpowering and gentle. Even with light production, as on her acoustic sessions, she's a force to be reckoned with. And soon a lot of people are going to figure that out.