If You Care About LGBT Rights, Don't Travel to These 7 Countries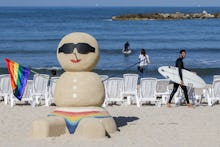 If you are LGBT or consider yourself an ally, you may want to think twice about traveling to certain countries on your next holiday. In 2015, there are still places in the world that not only fail to protect LGBT individuals, but also actively criminalize their existence.
Some of these locations are more visible than others. Thanks in part to the 2014 Olympics, the world knows that Russia, with its anti-gay propaganda legislation, is one of the least LGBT-friendly destinations on Earth, for example. But there are still 76 countries that outlaw "same-sex conduct," and seven where homosexual behavior is punishable by death.
Money talks. One of the simplest, most effective ways to show your support for LGBT communities is to close your wallets to places that legislate and condone such discrimination. With the American economy in recovery, the U.S. dollar is at an all time high, and it's cheaper to travel abroad now than it has been in years. While the following places are popular travel destinations — with economies that heavily depend upon tourism — their unethical treatment of LGBT people should make you reconsider adding them to your bucket list.
1. Jamaica
This frequent spring break destination touted a $2 billion tourist industry in 2013, but it also consistently has one of the highest murder rates in the world. Its treatment of LGBT people is notoriously horrendous. In 2006, Time went so far as to call it the "most homophobic place on Earth." Last year, the Human Rights Watch published a report and released a documentary focused on the persistent violence faced by LGBT locals. Those productions found there are roughly 60 cases of anti-LGBT violence perpetrated in Jamaica every year with little to no legal repercussion.
Gay travel writer Ed Salvato, who runs the popular online magazine ManAboutWorld, told Mic, "I will not visit Jamaica because I think that not only are the locals mostly gay-unfriendly, the authorities are too, so that locals and visitors alike may not rely on them for the protection they may need if they get into an unfortunate situation of homophobia."
2. Russia
Last year's Olympics brought international scrutiny to President Vladimir Putin's often draconian policies, which have limited the scope of freedoms for both women and LGBT individuals. Most recently, Russia enacted a law prohibiting people with "gender identity disorders, disorders of sexual preference and psychological and behavioral disorders associated with sexual development and orientation" from driving. Despite later clarification from the government that the law would not affect transgender drivers, somehow, the vote sparked widespread accusations of homophobia and transphobia.
Curve magazine Editor-in-Chief Merryn Johns [disclosure: Johns is the author's partner] explained to Mic that while the efficaciousness of boycotts is questionable, she will not go to Russia with its current politics. "Why should my money go into an economy that does not support my identity or rights?" she told Mic. "I am more than my wallet, and as much as I love Russian culture and its remarkable contribution to the world, I cannot support a dictator — just so that I can say I have eaten caviar and seen the beauty of Saint Petersburg. I have an ethical problem with doing that."
3. India
A little over a year ago, in December 2013, India recriminalized homosexuality after having legalized it in 2009. While India legally recognized third-gender citizens, known as Hijra, last April, the socially conservative nation has cracked down on gay citizens, sometimes through the use of undercover police officers, according to Foreign Policy. In 2014 alone, nearly 600 people were arrested under the anti-gay Section 377 of the Indian Penal Code, which criminalizes people for "unnatural offenses" such as having "carnal intercourse against the order of nature with any man, woman or animal." Punishment for such offenses includes "imprisonment for life."
4. Egypt
The political upheaval of the Arab Spring may have led to the deposal of former Egyptian president Hosni Mubarak, but it also eventually brought about a new hostile government under the control of former military leader Abdel Fattah el-Sisi. According to BuzzFeed, the new president Sisi has "been enforcing morality laws with a renewed zeal" since his inauguration in June. 
Indeed, BuzzFeed reports that in 2014, Egypt arrested at least 77 people for "debauchery" or other acts linking them to homosexuality or sex work. Police have also raided private parties and bathhouses known to be frequented by gay men in an attempt to curtail the secularization of Islamic Egypt. The Advocate reports that these "witch hunts" of LGBT people occurred via "alleged collusion between Egyptian security forces" and Iraqi journalists, and also that "Egyptian police were posing as gay men on hookup app Grindr in an effort to ensnare gay men." Thus, while not illegal in the country, homosexuality is often persecuted when it comes out of the closet. 
5. Morocco
From Old Hollywood classics to Sex and the City, nothing says exotic, luxurious adventure like Morocco. Historically considered artsy, gay and literary, cities like Marrakech and Tangier have long attracted westerners to what the BBC calls their "relaxed atmosphere." But homosexuality is illegal, not to mention socially taboo, in Morocco. Current punishment, according to Al Akhbar, "gives a penalty of six months to three years in prison and a fine of up to 1,000 dirhams ($115)." Last October, 70 year-old British man Ray Cole was arrested in Morocco, according to the Guardian, for "being gay." Casablanca may be calling, but so are three years of prison for gay people. 
6. Brunei — and all the Sultan's hotels
This southeast Asian "paradise" has legalized death by stoning for gay people. In 2014, Brunei Sultan Hassanal Bolkiah declared Sharia law against gays and women, which led to global protests against the Dorchester Collection of luxury hotels financed by the Sultan. Celebrities and activists have boycotted properties like the Beverly Hills Hotel and Le Meurice in Paris. In this scenario, travelers can protest the sultan and his bigoted politics in myriad ways beyond just avoiding travel to Brunei.
7. United States
Of course, homophobia is not simply a problem abroad. There are still 29 states where Americans can be fired because of their sexual orientation, and 32 where they can be fired based on their gender identity.
John Tanzella, president of the International Gay & Lesbian Travel Association told Mic that while his organization does "not condone boycotts," it is critical for LGBT individuals and their allies to think with their wallets and see the power behind where and why their spend their money.