You'll Never See an Ad Like This From American Apparel Again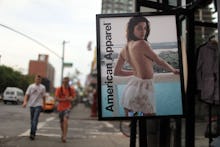 Spencer Platt/Getty Images
Looks like American Apparel's about to get a whole new attitude. 
After withstanding a tumultuous PR crisis, which included sexual misconduct allegations that got CEO Dov Charney tossed from the company he started, the brand's new leadership just announced a major sea change: The overtly sexual ads they've produced for years will disappear for good. 
In a recent interview, American Apparel's new CEO Paula Schneider said she wants the brand to be "just as provocative" as it's always been, with one major exception: less skin. 
"It doesn't have to be overtly sexual," Schneider told Business of Fashion. "There's a way to tell our story where it's not offensive. It is an edgy brand. And it will continue to be an edgy brand."
It's about time. The new move could be seen as something of a victory, as scores of women have taken the brand to task in recent years for its hypersexualized advertisements. Many wondered if such risque images were really necessary to sell everyday attire. When coupled with Charney's treatment of women, the ads became all the more concerning; the company's near-pornographic marketing campaigns dovetailed along a steady stream of allegations that Charney created a hostile workplace environment — including ordering a female employee to pleasure herself and at least one incident of sexual assault.
As Swedish blogger Emilie Eriksson highlighted in 2013, the marketing campaigns also displayed a clear sexist double standard. Eriksson pointed out that past ads for a unisex plaid flannel shirt featured a male model sporting a fully buttoned-up look, while his female counterpart stared suggestively into the camera and wore a hiked-up shirt with only panties underneath.
The company's new female-driven leadership now promises to move away from skin ads. Instead, as Schneider told Business of Fashion, American Apparel will focus on relevant social topics such as anti-bullying, gay rights and sweatshop labor. As one early sign of the change, openly gay teen and viral video star Brendan Jordan was featured in an ad campaign in December 2014 that praised his outspoken attitude toward LGBT issues.
If the brand's current homepage display is any indication, the changes are immediate:
Hopefully other brands learn a valuable lesson from American Apparel's mistakes. It's not about having a puritanical attitude toward open sexuality. It's about ensuring that fashion and retail can be free of the pervasive double standards and limiting environments that make it difficult for women to flourish and celebrate their multifaceted beauty.
h/t Dazed