The Most Beloved American on Russian TV Just Came Out of the Closet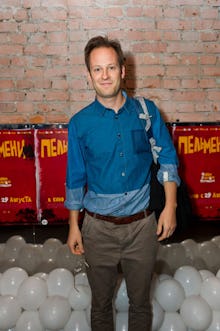 U.S.-Russia relations have hit a (nearly) all-time low. According to a survey from the Levada Center, more than 81% of Russians view the United States in a negative light, the highest antipathy rating since the collapse of the Soviet Union, and 42% of Russians see relations with the U.S. as hostile — and Gallup has found that Americans aren't so hot on the Motherland, either.
Which makes it all the more surprising that one of Russia's most beloved television stars is a genial baker from Minnesota. Odin Biron is a 30-year-old actor who plays the token American character, Phil, on the Russian sitcom Interny (or Interns), a sitcom in the vein of Scrubs that's insanely popular with Russian viewers. Biron, whose character can best be compared to Grey's Anatomy's George O'Malley, has been a bit of a breakout in the series, described by critics as "the show's unlikely moral compass."
But Biron is putting his golden-boy status in Vladimir Putin's Russia (indeed, his entire career), at risk by doing something that American actors have been doing for decades: coming out of the closet. Biron spoke about his sexuality publicly for the first time in an interview with New York Magazine, in which he admits that staying closeted in Russia hasn't been a difficult feat. "I've never lied," Biron tells New York. "Journalists ask, 'What do you think of Russian women?' 'Well, Russian women are beautiful.' 'Do you have a girlfriend right now?' 'No, I don't.'?"
The actor had considered moving back to the U.S. following the passage of a Russian law "for the Purpose of Protecting Children from Information Advocating for a Denial of Traditional Family Values," which made it nebulously illegal to publicly express homosexuality or approval for it in any location or publication where it could be exposed to children. But, upon reflection, Biron decided that his impact on Russian culture and attitudes would be more powerful if he stayed — and came out. "This country needs dialogue," he told New York.
The Russian reaction has been ... unpleasant. Fans of the show, who previously had declared in a popular Russian meme that "WHEN I ASK SATAN TO KILL ALL AMERICANS, I WILL ASK HIM TO SAVE ONLY ONE," (the one being Biron), have responded incredulously, and occasionally furiously:
Translation: "Orthodox community movement 'God's Will' is ready to help actor Odin Biron cure his homosexualism. We hope St. John will bless the therapy."
Translation: "Homos all around. Actor Odin Biron, who plays Phil Richards in Interns, admitted that he's a faggot. Where is the world going?"
But the worst reaction may have come from Biron's co-star, Russian firebrand Ivan Okhlobystin, who once stated that if he were in charge, "I would put all the gays alive into an oven." His Twitter reaction to Biron's coming out is in much the same vein, stating that "[My character] will never know that Phil is a pervert. But Okhlobystin, when he learned that his friend Odin is a sodomite, banged his head against the wall and cursed fate."
It's a brave move. Russia's anti-gay atmosphere has only grown more heated following the passage of the 2013 law that functionally banned open declarations of homosexuality. The State Department has listed the rise of anti-LGBT violence as a cause for concern, particularly for tourists visiting the country, and international watchdog Human Rights Watch says that the Russian government has been ignoring the attacks out of a lack of concern, even downright antipathy, towards Russian gays. "Russian law enforcement agencies have the tools to prosecute homophobic violence, but they lack the will to do so," Tanya Cooper, a researcher specializing in Russian issues at Human Rights Watch, told the BBC.
Although Biron admits that he is protected from the worst of this atmosphere by his celebrity, the revelation of his sexuality may make things more difficult. In a statement released to NBC News, Biron says he's not interested in being an activist, "but at a time when sexual minorities in Russia face greater adversity, both socially and legally, than at any time in recent memory, I feel compelled to use my unique platform to speak out. If my coming out publicly can give hope to anyone, or encourage them to do the same, then the sacrifice of my privacy is worth it."